Says 'millions are on the brink of starvation'
News Desk : dhakamirror.com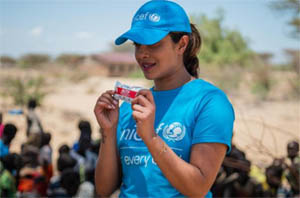 This week, UNICEF Goodwill Ambassador Priyanka Chopra Jonas visited northern Kenya to see kids who are severely acutely malnourished as a result of the widespread drought that has been plaguing the Horn of Africa, said a Unicef Press release.
During the two-day tour, Chopra Jonas traveled to Turkana County, one of 15 Kenyan counties that are experiencing from drought as a result of climate change and the lingering effects of COVID-19, and where nearly 1 in 3 children are acutely malnourished.
Severe acute malnutrition, also known as severe wasting, is a condition that requires care for about 900,000 children under the age of five in the affected countries.
"Children are starving to death in the Horn of Africa, and millions more people are currently on the verge of hunger", according to Chopra Jonas.
"The majority of the families I encountered were on less than $1 a day, and some had gone three days without eating. Here, climate change manifests itself as this".
"The distribution of therapeutic meals that are nutrient-rich and potentially save a child's life is one of UNICEF's life-saving operations on the ground that are assisting in halting this hunger catastrophe," added Priyanka Chopra.
In Kenya, 1.4 million children now have less access to nourishing food, clean water to drink, health care, education, and safeguards against abuse and neglect as a result of the previous four unsuccessful rainy seasons.
More children and families are anticipated to require humanitarian aid as a result of the fifth predicted unfavorable rainy season.
In response to the crisis in the Horn of Africa, UNICEF has increased nutrition services, provided therapeutic milk and ready-to-use therapeutic food (RUTF) to health facilities, and assisted governments in identifying and treating malnourished children in the most difficult-to-reach regions.
"UNICEF has been working tirelessly with governments and other partners to minimise child deaths in the most difficult of circumstances," said UNICEF Kenya Acting Representative Jean Lokenga.
"We are grateful to UNICEF Goodwill Ambassador Priyanka Chopra Jonas in helping us raise much needed awareness of the drought response appeal, and ensure every child has access to life-saving assistance," he said.
Chopra Jonas met two-year-old Keeza, who was admitted with acute malnutrition, at a pediatric stabilization center at the Lodwar Referral Hospital in Lodwar Town, where children in the worst situations are admitted for specialized treatment.
"The fact that so many vulnerable children in Kenya, like Keeza, are not receiving the care they require is a reality".
"Malnourished children can't fight off sickness since their immune systems are already compromised, thus they have an equal chance of dying from disease as from hunger. Both are true, and it may be avoided".
"Millions more children would be put in danger of dying if we don't take action right away", Chopra Jonas warned.
Chopra Jonas also spoke with residents of the Sopel Village community, some of whom had to leave their homes in search of water and pasture for their livestock due to the severe drought in central Turkana.
At Sopel, a solar-powered borehole has been built, providing dependable and secure access to water for the entire village, including at the neighborhood health center and primary school.
"Hanna Moru, a mother I met, inspired me with her strength in the face of the drought".
"She explained to me that the water source that served her family was the sole reason she was allowed to stay in her area", said Chopra Jonas.
"Hanna's youngest kid is now able to receive vaccines and nutritional care at the local dispensary, and her 13-year-old daughter Celine is now able to attend school."
Governments, the commercial sector, and private citizens are being urged by UNICEF to provide urgent financial support for the Horn of Africa drought response.
More needs to be done to broaden and maintain the response while also investing in longer-term resilience to support families dealing with recurrent climate-related emergencies as the situation worsens.
Priyanka Chopra Jonas has also appealed to people across the world to support UNICEF's efforts against Kenya's hunger crisis.