Cultural Desk : dhakamirror.com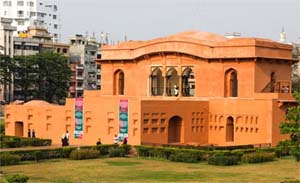 The Lalbagh Kella, also known as the Lalbagh Fort, was built by Prince Muhammad Azam, third son of Emperor Aurangzeb, and is arguably the most magnificent 17th-century structure still standing in Dhaka.
Attracting thousands of visitors every day, this tourist destination has undergone numerous renovations over the centuries, but perhaps few are as impressive as the full restoration, retrofit and 3D architectural documentation of the Mughal Hammamkhana (Royal Bathhouse) at the fort.
The project, conducted by the Department of Archeology and Ministry of Cultural Affairs, was funded by the US State Department's Ambassadors Fund for Cultural Preservation (AFCP) program and concluded Tuesday.
Inaugurated on March 24, 2021 the AFCP allotted $185,933 (around BDT 2 crores) for the Mughal Hammam Khana.
State Minister of Cultural Affairs K M Khalid, MP was chief guest at the closing ceremony, with special guests US Ambassador to Bangladesh, Peter D Haas and Cultural Affairs Secretary MD Abul Mansur. The event was chaired by Chandan Kumar Dey, Director General, Department of Archaeology.
"We have restored 11 cultural heritage spots in Bangladesh in the past 20 years through the AFCP, and we are glad to be a part of the restoration project for such a marvellous structure", said the U.S ambassador.
Conservation architect and project consultant Dr Abu Sayeed M Ahmed reiterated the importance of preserving the structures of the Lalbagh forts as it was originally intended, through a presentation. The use of 3D architectural design will serve as a valuable reference for future restoration and conservation efforts.
In the past 20 years, the United States has supported 11 AFCP projects in Bangladesh at a total value of over $576,000 (Tk 6 crore) to preserve and restore its cultural heritage and patrimony.