Cultural Desk : dhakamirror.com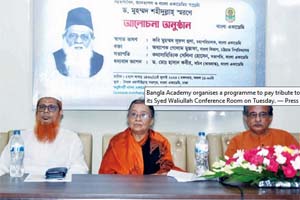 Bangla Academy paid tribute to educationist, writer, philologist and linguist Dr Muhammad Shahidullah organising a commemorative programme at its Syed Waliullah Conference Room on Tuesday.
The academy organised the programme marking the 138th anniversary of the birth of Dr Muhammad Shahidullah, which was also streamed on the Facebook page of the academy.
Chittagong University Bangla department professor Golam Mostofa delivered a solo lecture while acting secretary of the academy Md Hasan Kabir gave vote of thanks at the programme, which was presided over by the academy's president Selina Hossain
Professor Golam Mostofa said that Dr Muhammad Shahidullah analysed the language of Charyapada and debunked many misconceptions about its origin and determined its timeline.
'Dr Muhammad Shahidullah made a huge contribution in many ways to Bangla language and literature. He debunked many misconceptions about Charyapada's origin and scientifically determined its timeline, which is now widely accepted,' Golam Mostofa said.
He also added, 'Dr Muhammad Shahidullah also researched and found out that Charyapada is the source of many proverbs prevalent in the Bengal region.'
Selina Hossain said, 'Muhammad Shahidullah worked tirelessly in his whole life to spread among us immense love for our mother language. He is remembered for his contribution to linguistics as well as for fighting for the Bangla language.'
'He demanded that Bangla be made as one of the national languages ??of Pakistan and strongly opposed the use of Bangla in Arabic and Roman script,' added Selina Hossain.
Hasan Kabir said, 'The great dream of thinkers like Muhammad Shahidullah was instrumental in establishing the Bangla Academy. Because of the multidimensional contribution of thinkers like him, Bangla language and literature are honoured worldwide today.'
Recognised as a pioneering Bengali Muslim scholar, Dr Muhammad Shahidullah was born in the village Peyara of 24 Pargana, West Bengal (now in India) on July 10 in 1885.
He joined the University of Dhaka as a lecturer of Sanskrit and Bangla in 1921. To pursue his doctoral studies, Shahidullah went to France and Germany in 1926. He studied Vedic Sanskrit, Buddhist Sanskrit, Comparative Philology, Tibetan and ancient Persian at the University of Paris, and Khotni, ancient Vedic Sanskrit and Prakrit at Freiburg University in Germany.
His works can be linked to the rise of linguistic nationalism. Most of his works are research-oriented and he wrote a number of significant books on these subjects and explained many aspects of the Bangla language and ancient Bangla literature.
He wrote books, including Sindabad Saodagarer Galpa, Bhasha o Sahitya, Bangala Byakaran, Diwan-i-Hafiz, Shikwah o Jawab-i-Shikwah, Rubaiyat-i-Omar Khayyam, Amader Samasya, Padmavati, Bangla Sahityer Katha, Vidyapati Shatak, Bangla Adab Ki Tarikh, Bangla Sahityer Itihas, Bangala Bhasar Itibrtta, Amarkabya and Sekaler Rupkatha.
He passed away on July 13, 1969.