Entertainment Desk : dhakamirror.com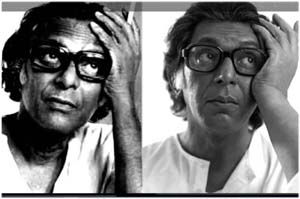 Srijit Mukherji's Mrinal Sen biopic "Padatik" stars Chanchal Chowdhury with a new look.
An Indian magazine, Anondolok, has published the new look of Chanchal Chowdhury in the role of Mrinal Sen. In this film, Tollywood actress Monamee Ghosh will be playing the role of Mrinal Sen's wife, Gita Sen. Her look in the film was also revealed.
The pictures have been circulating on social media. People have been commenting that Chanchal looks almost identical to the legendary director.
Mrinal Sen is widely considered one of the best filmmakers working in New Indian Cinema. Sen, who had been battling age-related illnesses for some period, passed away on December 30th, 2018, at the age of 95, in Kolkata.