Cultural Desk : dhakamirror.com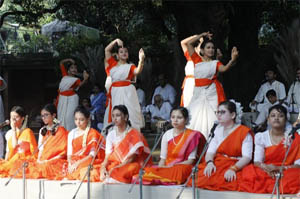 Cultural organisation Chhayanaut celebrated Sharat organising a programme at the Bakultala of fine arts faculty of Dhaka University on Friday. Artistes of the organisation entertained the audience singing songs and reciting poems on Sharat. Besides, the programme featured solo and group dance recitals.
'Chhayanaut regularly tries to organise different programmes to celebrate different Bengali seasons. We have organised today's progamme to celebrate Sharat,' Chhayanaut general secretary Laisa Ahmed Lisa said. 'Nowadays, very few cultural programmes are organised marking Sharat season. Such programmes can play an important role in making the younger generation aware of their roots,' added Laisa Ahmed Lisa.
'We have organised cultural programme on Sharat after a two-year hiatus. We have tried to depict the beauty of Sharat season through dance recitals, songs and recitations,' mentioned Laisa Ahmed Lisa.
The Sharat celebration programme began with a group dance recital. Chhayanaut artistes staged a dance recital synchronised with Tagore song Ogo Shephaliboner Moner Kamona, which was followed by a solo performance of Tagore song Sharat Alor Kamalabone sang by Dipro Nishanto. Chhayanaut artistes also staged another group dance recital synchronised with Tagore song Dekho Dekho Dekho Shuktara Akhi Mele Chai while child artistes of Chhayanaut performed dance recitals synchronised with Tagore songs, namely Aaj Dhaaner Khete Roudrachhaayay, Sharate Aj Kon Atithi and Megher Kole Rod Hesechhe. Artistes also sang songs with the theme of Sharat at the event.
Naima Islam Naz sang Amar Rat Pohalo Sharod Prate, Chanchal Baral sang Ei To Tomar Prem Ogo, Asim Dutta sang Tumi Usar Sonar Bindu, Abhaya Dutta sang Tomar Sonar Thalay Sajabo Aj, ATM Jahangir sang Ami Chahite Esechhi Shudhu Ekkhani, Semanti Manjari sang Aji Megh Kete Gechhe, Tahmid Wasif Ribhu sang Keno Je Mon Bhole Amar, Sutapa Saha sang Kar Bashi Nishibhore, Sejuti Barua sang Amar Nayan Bhulano Ele by and Maksura Akhtar sang Hridoye Chhile Jege.
Besides, artistes rendered group songs, namely Amra Bedhechi Kasher Guccho and Tomar Mohano Rupe Ke Roy Bhule. Sudeshna Swayamprabha Tathoi staged a solo dance recital synchronised with Tagore song Tomra Ja Bolo Tai Bolo.
Zahid Reza Noor read selected parts from Rabindranath Tagore's Bichitra Prabandha on Sharat season while Sumana Biswas recited Rabindranath Tagore's poem titled Sharat. Enamul Haque Omar, Mritunjay Majumder, Asit Biswas and Pradeep Roy played different musical instruments at the event.