Cultural Desk : dhakamirror.com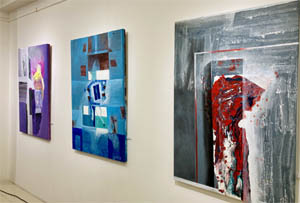 How often do we get to see a disorganized, yet orderly, display of 3D figures adorned in vibrant colors?
This is true of the maximalist abstractions created by artist Khurshid Saleem, which are a remarkable illustration of the fusion of geometric shapes with impromptu flowing hues.
The 80th solo show of Khurshid Saleem, "Hidden Beauty," opened at Gallery Chitrak on October 14.
Professor Nazrul Islam, an art critic, attended the event as the principal guest. Afzalur Rahman Babu, the general secretary of the Bangladesh Awami Swechasebak League, attended as a special guest. Professor Nisar Hossain, the dean of the Fine Arts Institute (DU), served as the event's chairperson.
Professor Nisar spoke on Saleem's ability to impart practical knowledge through his artwork and how hard he has worked to encourage Bangladeshi artists.
Veteran artist Khurshid Saleem has made his mark on practically every continent.
Ed McCormack, a New York-based art critic, once remarked of Saleem, "If Rothko was a minimalist, Saleem is a maximalist in terms of the quantity of formal elements he brings into play on the painting."
Aside from having 75 international exhibitions, Saleem's paintings have made a place for themselves in museums across Asia and Europe.
This exhibition features 50 paintings from his "Hidden Beauty" series.
Overall, "Hidden Beauty" is a fantastic demonstration of Khurshid Saleem's talent.
This exhibition will be on view at Gallery Chitrak through October 22.