Cultural Desk: dhakamirror.com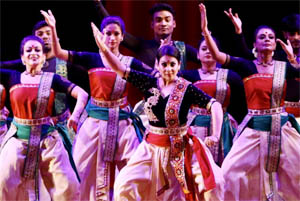 Ganga Jamuna Cultural Festival eventually returned to Bangladesh Shilpakala Academy (BSA) at 6 pm after a year.
172 theatre troupes from Bangladesh and India will participate throughout the 11-day event. These plays will be at BSA and Mahila Samity at 7pm daily until October 31.
Every day until 4 p.m., performances will be held at Unmukta Mancha in National Theatre Hall.
Manchasharathi Ataur Rahman inaugurated the ceremony at 6 pm, at the auditorium of the National Theatre Hall. Ghulam Kuddus, convener of Ganga Jamuna Shangskritik Parshad, presided over the program, while Minister of Cultural Affairs, K M Khalid, MP graced the occasion as the Chief Guest..
Aktaruzzaman, member of the festival board and event host, delivered the welcome address.
Warda Rihab directed all dance performances.
Ramendu Majumdar, Asaduzzaman Noor, MP, Mamunur Rashid, Nasir Uddin Yousuff, Liaquat Ali Lucky, Md Ahkam Ullah, and Shah Alam Sarwar, Managing Director and Chief Executive of IFIC Bank Limited, were distinguished guests.
Ministry of Cultural Affairs, BSA, and IFIC Bank Limited are supporting the event.
On opening day, these plays were performed: "Pohela Shorbori" by Theatre troupe (National Theatre Hall), "Obhishoptop August" by Bangladesh Police Theatre (Experimental Theatre Hall), and "Juimalar Shoimala" by Nirabhoron Theatre, Manikganj (Studio Theatre Hall). Loko Nattyadal (Banani) produced "Konjush" at Mahila Samity.