Cultural Desk : dhakamirror.com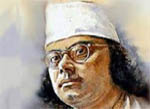 Today is the 46th anniversary of the death of the national poet Kazi Nazrul Islam.
The death anniversary of Nazrul, widely known as the rebel poet, is observed in Bangladesh on Bhadra 12 according to the Bangladeshi Bangla calendar.
Different government and socio-cultural organisations, television channels and radio stations have chalked out elaborate programmes marking the day.
The day's programme will begin with placing of floral wreaths at the poet's grave beside Dhaka University Central Mosque in the morning.
The cultural affairs ministry in association with Kabi Nazrul Institute and other departments and organisations under the ministry will pay tributes to the poet by placing floral wreaths at the grave of Nazrul at about 7:00am.
Kabi Nazrul Institute, Bangladesh Shilpakala Academy, Bangla Academy, Chhayanaut, Dhaka University and others will pay tribute to Nazrul by organising different programmes.
Kabi Nazrul Institute will organise a discussion and cultural programme at Rabindra Sarobar at Dhanmondi in the capital Dhaka at 5:30pm.
Cultural affairs secretary Md Abul Monsur will attend the programme as the chief guest while Kabi Nazrul Institute Trustee Board chair Khairul Anam Shakil will be present as a special guest at the programme, which will be presided over by Kabi Nazrul Institute executive director Mohammad Zakir Hossain.
Bangladesh Betar, Bangladesh Television and private television channels and radio stations will air special programmes highlighting Nazrul's life and works.
Poet Nazrul, born into a poor family at village Churulia of Burdwan in West Bengal of India on Jaishthya 11, 1306, had to leave his study at an early age for earning his living.
He left school and joined a Churulia-based professional 'leto' troupe to earn his living at the age of nine. While working for the troupe, he was introduced to Bangla and Sanskrit literature. Although he resumed education a year
later and got enrolled at Matharun English School, again he dropped out of the school in Class VI for poverty.
Afterwards, he worked with a 'kabi gaan' troupe and also took up a job at a bakery.
Nazrul's talent grabbed the attention of police officer Kazi Rafizullah, who gave him shelter at his house at Trishal in Mymensingh in 1914 and got him enrolled in Class VII at Darirampur School.
He joined the British Army in 1917 as a soldier. While serving there for two years and a half, the young poet was introduced to Persian literature and learned to play different instruments following notation.
Nazrul's literary practice took a formal shape while serving as a soldier. His first poem Mukti, first story Bounduler Atmakahini, and a number of other writings such as Byathar Dan and Meher Nigar were published during that time.
His life as a journalist began with the publication of the evening daily Nabajug in 1920. He started a fortnightly magazine Dhumketu in 1922.
Nazrul was jailed for one year for his political poem Anandamoyeer Agomone. While in prison, the poet wrote his masterpieces Aj Srishti Sukher Ullashe, Obhishap, Jater Namey Bajjati, Bhangar Gaan and Shikal Para Chhal.
The rebel poet is particularly noted for his unique and unparalleled poem Bidrohi. In his creative life, Nazrul also worked as a lyricist and music composer.
According to the Nazrul Institute, Nazrul penned 3,174 songs, 600 poems, three novels and 43 essays in his short artistic career of just over 20 years, before he lost his speech in 1941.
Nazrul was brought to Dhaka from Kolkata in May 1972.
Dhaka University awarded the poet the honorary degree of DLitt in 1974 for his contribution to Bangla literature and culture. The Bangladesh government granted him citizenship of Bangladesh in 1976 and awarded him the Ekushey Padak.
Nazrul died in Dhaka on Bhadra 12, 1383. He was buried beside Dhaka University central mosque.