Cultural Desk : dhakamirror.com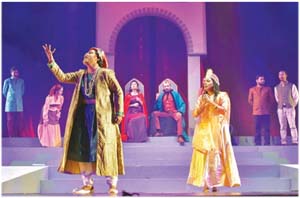 Bangladesh Shilpakala Academy staged its acclaimed production titled Hamlet at the National Theatre Hall of the academy on Friday.
The play, written by William Shakespeare, has been translated into Bangla by Syed Shamsul Haq.
Thespian Ataur Rahman has directed the production.
Set in Denmark, Hamlet depicts Prince Hamlet and his attempts to exact revenge against his uncle, Claudius, who murders Hamlet's father in order to seize the throne.
Prince Hamlet returns home to attend the funeral of his father, the king of Denmark. Meanwhile, his mother Gertrude marries his uncle Claudius.
As Hamlet mourns the death of his father, Horatio, Hamlet's friend, tells him about some unnatural events that happen after the king's death.
Hamlet begins doubting about his father's death. The ghost of the king appears and tells Hamlet that he is a murder victim and the play moves forward.
Masud Sumon played the character of Hamlet while Shamim Sagor played the character of Claudius and Sangeeta Chowdhury played the character of Hamlet's mother Gertrude in the play.
'We premiered Hamlet as part of the year-long celebration of 400th anniversary of the death and 450th anniversary of the birth of William Shakespeare. The play has received a huge response from theatre lovers. We staged the play after a 14-month hiatus today,' said Masud Sumon.
The BSA will stage another show of Hamlet at the same venue today.