Cultural Desk : dhakamirror.com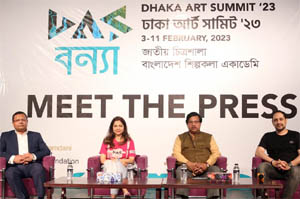 The biggest exhibition platform for art and architecture in Bangladesh, Dhaka Art Summit (DAS)will start on Friday (February 3). The sixth DAS will have the Bengali theme of "Bonna" (flood) as its basis.
The event will feature over 160 local and international artists. Topics like climate change and gender relations will be a key focus in this year's event—which will run between February 3 and 11.
Earlier today, a press conference was held at Bangladesh Shilpakala Academy's Jatiya Chitrashala auditorium to commemorate this year's DAS. The Samdani Art Foundation's Nadia Samdani, MBE and Rajeeb Samdani shared information about the upcoming event with the media.
The Dhaka Art Summit exhibition will be held at Bangladesh Shilpakala Academy's National Art Gallery building. The nine-day event will include workshops, performance seminars, and a variety of exhibitions, as well as the participation of renowned art critics and collectors from around the world.
Salman F Rahman, the private industries and investment advisor to the honorable Prime Minister, has agreed to attend the opening ceremony on February 3. K M Khalid, MP, Honourable State Minister of Cultural Affairs; Liaquat Ali Lucky, Director General of Bangladesh Shilpakala Academy; Nadia Samdani MBE, Director of Dhaka Art Summit and President of Samdani Art Foundation; Rajeeb Samdani, Trustee of Dhaka Art Summit and Samdani Art Foundation; Mohammad Shaker Shamim, Managing Director and CEO of Golden Harvest Agro Industries Limited, and others will be in attendance on day one.
Among the artists taking part in the sixth edition of DAS: Sumaiya Vali, Antony Gromley, Asfika Rahman, Vinodbihari Mukherjee, Bhasha Chakraborty, Chitraprasad, Daniel Boyd, Damasus Hacha, Faisal Zaman, Ganesh Paini, Ghazaleh Avarzamani, Habik Chuhen, Habiba Nowroz, Jamal Ahmed, Jaydev Roja, Jani Rusika, Kabir Ahmed Masum Chishti, Kamruzzaman Swadhan, Lala Rukh, Lapdiang Saiyem, Marina Perez Simao, Nabil Ahmed, Nazmun Nahar Kaya, Paul Taburet, Rupali Gupta and Prasad Shetty, Purnima Akhtar, Rafiqun Nabi, Safiuddin Ahmed, Sahej Rahal, Tanya Goyal, Veronica Hapchenko, Yasmin Jahan Nupur, Rizvi Hasan, Ganesh Pine and many others.