Entertainment Desk : dhakamirror.com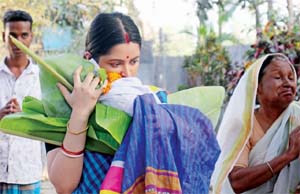 Filmmaker Aranya Anwar-directed Pori Moni-starrer film titled Maa will be released in local cinemas marking mother's day on May 19.
The director made the announcement at a programme held at a restaurant in the capital on Saturday.
Dhallywood actress Shamsunnahar Smrity, popularly known by her stage name Pori Moni, was also present during the announcement.
Aranya Anwar said, 'I dedicate this film to all mothers. I am looking forward to releasing the film marking the Mother's Day on May 19.'
The shooting of the film began in January in the past year. Pori Moni, has played the lead character in the film, which is based on the War of Independence.
'When I took part in the shooting of the film to play the role of a mother, I was pregnant with Rajya. I am happy because the film is going to hit cinemas,' said Pori Moni.
Azad Abul Kalam, Farzana Chhobi, Shazu Khadem, Robena Reza Jui, Shilpi Sarkar Apu, Setu, Labonno and Shahadat Hossain have played different roles in the film.