Entertainment Desk : dhakamirror.com
The highly anticipated film, Mission: Impossible – Dead Reckoning Part 1, starring Tom Cruise, is set to hit theaters on July 12.
Paramount Pictures, the studio behind the blockbuster Top Gun: Maverick, is pulling out all the stops to deliver another thrilling installment of the Mission: Impossible franchise. Fans have been eagerly awaiting this release, as the trailer has been teasing them since last year when it was attached to screenings of Maverick.
In this adrenaline-pumping trailer, we catch a glimpse of the legendary Ethan Hunt, portrayed by the incomparable Tom Cruise, alongside a star-studded cast including Ving Rhames, Simon Pegg, Rebecca Ferguson, and Vanessa Kirby, reprising their roles from previous Mission: Impossible films.
Joining the team are fresh faces, such as the talented Hayley Atwell, Esai Morales, Pom Klementieff, and many more. The action-packed scenes promise a rollercoaster ride of suspense and high-stakes missions, all brought to life by the visionary minds of Cruise and writer-director Christopher McQuarrie.
Tantalizing trailer leaves fans puzzled as the plot remains a mystery
Despite the tantalizing trailer, the plot details remain shrouded in mystery. Why does Ethan Hunt find himself leaping off a cliff while on the hunt for a mysterious key? The answers elude us for now, but what we do know is that the film's production has been a long journey. Originally announced in 2019 for a 2021 release, the COVID-19 pandemic and other unforeseen circumstances caused delays, leaving fans eagerly anticipating the film until now, in 2023.
The excitement doesn't end with Dead Reckoning Part 1, as Mission: Impossible – Dead Reckoning Part II is already in the works, scheduled to conclude this gripping storyline. There are speculations that a trailer or a teaser for Part II might accompany the release of Part 1, heightening the anticipation for what might be the final chapter in Ethan Hunt's thrilling saga. Mark your calendars for June 28, 2024, when the concluding installment is set to hit theaters.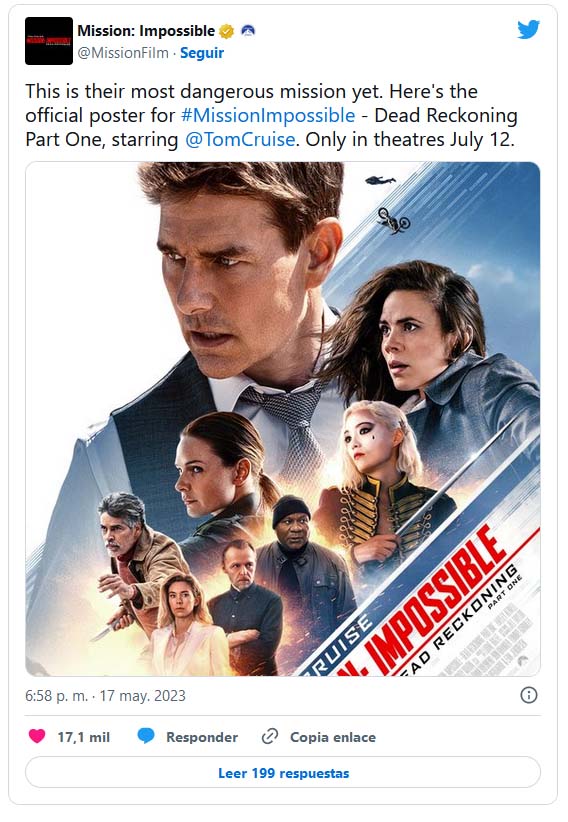 The wait is almost over! Mission: Impossible – Dead Reckoning Part 1 promises heart-stopping action, mind-bending plot twists, and a star-studded cast that will leave audiences on the edge of their seats. Be sure to catch this epic adventure when it arrives in theaters on July 12. It's a mission you won't want to miss!