Entertainment Desk : dhakamirror.com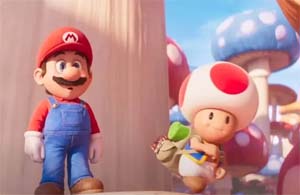 The Super Mario Bros. Movie has become an unlikely cash-cow for Universal picture. The animated feature is expected to cross $1billion in earnings at the global box office.
Even though the film by Nintendo, Universal pictures and Illumination Entertainment isn't projected to reach the target until the weekend, Universal has enough faith in the projections to declare victory.
Since its release less than a month ago The Super Mario Bros. Movie has smashed targets and remains the top release on US charts, according to Variety.
"Super Mario Bros." is by far the most money-spinning release of 2023 so far.
The movie stars Chris Pratt, Anya Taylor-Joy, Charlie Day and Jack Black. In The Super Mario Bros. Movie Italian plumber brothers Mario and Luigi are sucked into a magical portal where they meet iconic characters Princess Peach, Bowser, Toad Key, and Donkey Kong. The brothers then try to save magical Mushroom Kingdom from the enraged king of the Koopas – Bowser.
Earlier, in an interview Jack Black who voices Bowser in the animated feature, suggested Pedro Pascal for the role of Mario's archenemy in a follow-up film.
"It's not a given that Bowser will return. You know, I did a few Kung Fu Panda movies, and it was a different villain every movie. They may do the same thing," Black told Game Spot.
"You know, what if there is a more powerful, more evil villain? Then I may need to be turned to help Mario and the rest to defend our universe against some other unseen force of evil. Are you thinking what I'm thinking? Wario. Pedro Pascal is Wario."