Ranbir Kapoor, Alia Bhatt starrer Brahmastra part 1 was released on Friday
Entertainment Desk : dhakamirror.com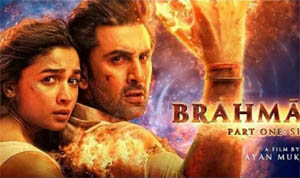 After much-anticipation, preparation of more than 5years, multiple controversies, promising VFX experience, one real life love story, the Ayan Mukerji directorial, Brahmastra, was released on Friday September 9. The Ranbir Kapoor, Alia Bhatt starrer is the first installment of the trilogy.
The star-studded film, backed by Dharma Production, also stars big names like Amitabh Bachchan, Nagarjuna Akkineni, Mouni Roy, Shah Rukh Khan, who could be seen in a cameo role. It has been released in the theatres in Hindi, Tamil, Telugu, Malayalam, and Kannada.
Part one, is the story of SHIVA – a young man, who is by profession a DJ, and the protagonist, who slowly falls in love with a girl named Isha. But their world is turned upside down because Shiva learns that he has a mysterious connection to the Brahmāstra and a great power within him that he doesn't understand- the power of Fire.
As the story continues, Shiva meets the leader of a sage group, played by Amitabh Bachchan, who informs him about Brahmastra, the strongest weapon of all, which can destroy the entire universe. Under the sage's guidance, Shiva learns to harness his power and learns that he has the ability to awaken Brahmastra. Meanwhile, the queen of dark power, Junoon, played by Mouni Roy, has also played her twisted games to procure Brahmastra for evil reasons. This foundation of mystical forces forms the crux of Brahmastra, along with Shiva's love for Isha.
The box-office has been on a dry spell for quite a some time now, with movies under big banners and A-listers have been failing back-to-back, everyone has been eyeing for the release of the Magnum Opus. While the huge advance booking of the film has caused surprise to many, some of the early reviews have raised our eyebrows.