Entertainment Desk : dhakamirror.com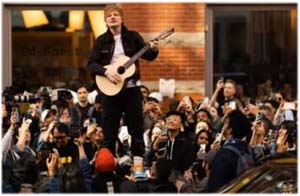 After winning his Marvin Gaye copyright trial, Ed Sheeran surprised fans with an impromptu performance in New York City.
The Grammy winner visited the Soho pop-up shop for his latest album, which was released on Friday, and was greeted by hundreds of screaming fans.
Sheeran then took out his guitar, climbed onto the roof of a nearby car, and serenaded the crowd with some of his biggest hits, including 'Thinking Out Loud,' which was central to his recent legal drama.
Many fans shared videos of Sheeran's mini-concert on social media, showing him smiling as he calmed the crowd before performing six songs.
The celebratory singalong came just one day after a jury ruled that the 'Perfect' singer was not liable for stealing Marvin Gaye's 'Let's Get It On' after only three hours of deliberation.
The decision came nearly four years after the estate of Gaye collaborator Ed Townsend claimed Sheeran 'copied and exploited, without authorization or credit' the hit 1973 R&B song.
They argued that the singer replicated the song's "melody, rhythms, harmonies, drums, bass line, backing chorus, tempo, syncopation and looping" and wanted $100 million for it.
Sheeran, on the other hand, refuted their claims, claiming that the 1-3-4-5 chord progression is common in pop songs.
Following his fate, the 32-year-old sent a powerful message to his accusers, revealing that he had to miss his late grandmother's funeral in order to settle the dispute.
"We've spent the last eight years talking about two songs with dramatically different lyrics, melodies and four chords, which are also different and are used by songwriters every day, all over the world," he said. "They are in a songwriter's alphabet, our toolkit, and should be there for all of us to use. No one owns them or the way they're played in the same way no one owns the color blue."
He continued, "I'm just a guy with a guitar who loves writing music for people to enjoy. I am not and will never allow myself to be a piggy bank for someone to shake. Having to be in New York for this trial has meant that I've missed being with my family at my grandmother's funeral in Ireland and I will never get that time back."
Sheeran concluded his message by thanking his family, co-writer Amy Wadge, and the jury for upholding 'songwriters' creative freedom.'
Sheeran had previously been sued twice for allegedly stealing another artist's work. Both cases were resolved amicably.