Sujata Azim
Entertainment Desk : dhakamirror.com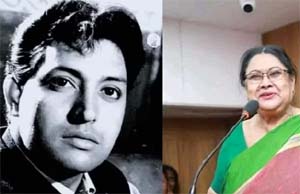 Azim was one of the legendary Bengali actors of the black and white era, who has gifted many beautiful films to the industry. Apart from being an actor, he was a producer as well.
He was an extraordinary actor, thus 20 years after his departure, all I can think is does he not deserve a national recognition for that? Will there be no appreciation for his efforts as a freedom fighter? I do not feel regrets about that, I feel disheartened. I don't know how long I have in this world, which is why I feel like if I had seen my husband receive the honour that he deserves, I would have felt successful as a wife.
My husband never fought with arms on the field, but he offered everything he could to those who did. I remember one instance, we got married in 1967 and the Liberation war broke out in '71. Azim had gifted me a car for our wedding, which stood at BDT 25,000 during that time. He sold that car to help the freedom fighters. He told me "Our country comes first".
I remember, during the recession we had been struggling financially. However, even during all this crisis, Azim once brought two chickens from a vendor, paying him much more than he asked for. When I expressed my surprise, he brought me inside and told me to lower my voice. "He is a freedom fighter", said Azim pointing out the poultry vendor.
During the war, freedom fighters would commute in disguises to gather intel or resources. Azim would always be ready to help them, with whatever he had.
There are many people that I can currently recall, who are testament of my husband's contribution to the war. One of whom is the former member of Parliament, Mofazzal Hossain Chowdhury (Maya) who is also a freedom fighter himself. Moreover, Fateh Ali Chowdhury another freedom fighter, younger brother of Shahadat Chowdhury who was also the editor of the weekly Bichitra, knows about Azim's contributions and the type of person he was. He would also help Sumita Di, who would live on the FDC floor.
After liberation, we started shooting films again, where Azim's contribution is immense. He helped FDC gain some of its notable directors like Akbar Kabir Pinto, Nazmul Huda Mintu. He was also very close to actor Jashim, whom he introduced to the world of cinema. The entire expense of Jashim's "Dost Dushmon" was carried out by Azim, where the former only spent around 10 thousand Taka.
All of these accounts are explored in details in my book "Shimulir Ekattor". While going to shoots, he would offer rides to fellow artistes, helping out as much as possible. He was a man of a generous and charitable nature, no one ever returned empty-handed from him.
He was my co-star in films like "Harano Din", "Notun Shur", "Megh Bhanga Rod" and a lot more films.
Legendary actor Azim was in born on July 23, 1937 in the Habiganj district. His father was a judge, as a result his childhood was spent in different places across the country. Later, he settled down in the capital's Vogoboti Banerjee road. Azim passed away in 2003 on March 26 aged 66, having suffered from heart related complications.
– Article originally appeared on The Daily Star