Entertainment Desk : dhakamirror.com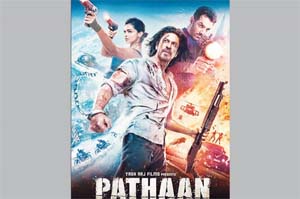 Filmmaker Anonno Mamun said that Indian Hindi-language action thriller film, Pathaan, starring Shah Rukh Khan and Deepika Padukone would be released in cinemas in the country on May 5.
'We are looking forward to releasing the film in between 30 and 32 cinemas across Bangladesh on May 5,' said Anonno Mamun on behalf of Action Cut Entertainment, the importer of Pathaan.
'We have imported Pathaan following all necessary procedures and paid duty and VAT for importing the film,' added Anonno Mamun.
He, however, did not disclose the amount paid for importing the film.
Pathaan was theatrically released in India on January 25.
It was reported in the local media that Shahrukh Khan-starrer Indian spy film Pathaan might be released in Bangladesh on February 24. However, the film's release was postponed as International Mother Language Day is observed in February.
Later, it was reported in Indian media that the film would hit cinemas in Bangladesh in March. However, it was not released in the country.
The government in April gave conditional permission to import films, shot in languages spoken in the Indian subcontinent, from South Asian Free Trade Area signatory countries—India, Afghanistan, Bhutan, Maldives, Nepal, Pakistan and Sri Lanka.
According to the conditions, Bangladeshi legitimate film producers and exhibitors will be able to import films shot in languages spoken in the Indian subcontinent from SAFTA signatory countries and the films can be imported with subtitles opposite exported local films for a tentative two-year period.
The circular said that 10 films could be imported and equal number of Bangladeshi films could be exported in the first year and the imported films would have to get clearance from Bangladesh Film Censor Board prior to release in local cinemas.
– With New Age input