Entertainment Desk : dhakamirror.com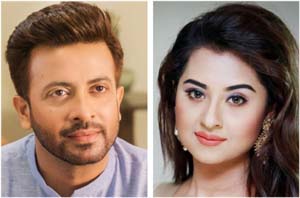 During an interview on Tuesday, May 9th, Shakib Khan stated he will never work with Bubly on any other film, citing this as his "final decision."
"I won't be sharing screen with Bubly and that's my final decision. If you have watched the song 'Surma Surma', then you will notice that, even though it is a romantic song, there was a distance between us. We didn't even touch each other in the song. This has never happened in my acting career. I don't want to share screen with her anymore," said Shakib Khan.
Shakib also stated that he had ended everything with Bubly off-the screen, as well as on-screen.
"We have ended things a long time ago. Whatever we are doing together, it's just because of our child. My chapter with her is completely finished," said the actor.
In response to the interview, Khan's estranged wife, Shobnom Bubly made a statement on social media on May 10th, Wednesday.
The actress stated: "Mr. Shakib Khan, I don't know why but some of your interviews don't match what I see in reality. Looking at my son's face, I don't want to say much about you. But, if I must defend my honour as Shehzad's mother, I will absolutely do so when the time comes."
Noting that the pair spent Eid together on good terms, Bubly wrote: "What is your purpose behind making constant offensive remarks about your wife (We are not divorced yet) and the mother of your child?"
Bubly further stated, "These will remain in the archive. When Shehzad grows up, he will see it. I want to say this to you, make good movies. But, remember, superstardom is a part of your life, it is not your entire life."