Entertainment Desk : dhakamirror.com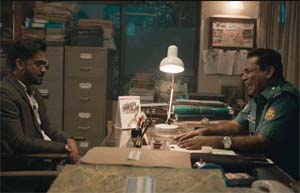 The much-anticipated web series "Mohanagar," which is being directed by Ashfaque Nipun, has just published the trailer for its second season, and it is already generating attention online.
The first season of the series was thrilling, ending on a cliffhanger. The audience had been waiting for the truth to be revealed, and for the ultimate consequence that OC Harun has to face.
Looking at the trailer, it seems that in this season, the audience will finally know what happens to OC Harun.
The trailer opens with a scene where OC Harun is taken to an interrogation room blindfolded. The trailer threw a question to the audience: is Harun a victim of action or consequence? It seems like in this season, the story will revolve around OC Harun and how he reveals the ultimate truth of that night.
Noted actor Mosharraf Karim was praised after donning the role of OC Harun in the series. The series also features Shamol Mawla, Mostafizur Noor Imran, Fazlur Rahman Babu, Q Nawshaba Ahmed, Dibya Jyoti, and Afsana Mimi, among others. "Mohanagr 2" will be released on Hoichoi on April 20.