Entertainment Desk : dhakamirror.com
The former wrestler turned Hollywood star is part of an absolutely stacked cast in Barbie, led by Margot Robbie as the iconic doll and Ryan Gosling as her boyfriend/accessory Ken struggling with his place as number two.
The film is also rounded out by the likes of other Barbies played by Emma Mackey (Nobel Prize in physics-holder Barbie), Issa Rae (President Barbie), Sharon Rooney (Lawyer Barbie) and Nicola Coughlan (Diplomat Barbie), as well as Kens courtesy of Simu Liu, Kingsley Ben-Adir and Ncuti Gatwa.
Singer Dua Lipa is also appearing as the majestically blue-haired Mermaid Barbie, as well as providing the film's theme song, Dance The Night.
Now, it appears that Cena is set to play her male merman counterpart – and reportedly even her love interest.
Having not had his own character poster released, nor even been glimpsed in any trailers or clips yet, the DC actor, 46, was revealed in full costume as 'Kenmaid' as part of a behind-the-scenes documentary shared on YouTube on Wednesday night by iHollywoodTV.
Cena's 'Kenmaid' look includes a long blonde curly wig and a cream shell necklace with a large purple shell pendant.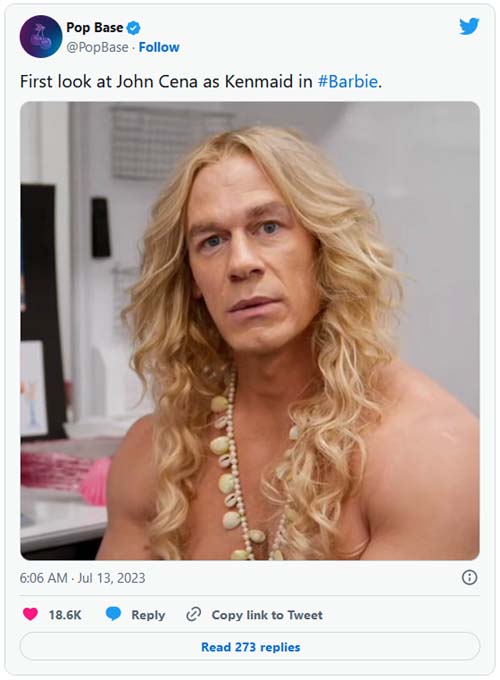 A small section of the top of his tail can be peeped too as he sits in a costume trailer with Barbie mermaid inspiration board seen behind him, and it seems like it will have elements of purple too.
Discussing Barbie, the star admitted he had been 'blown away by the concept'.
'I think it's going to be a movie that all audiences enjoy. I think it's going to be a movie that evokes conversation and I think it's going to be beautifully visually appealing.'
[With] the ideas behind it, I think the audience will walk away with a mixed bag of opinions, which is the greatest form of entertainment when you [don't] just have one universal feel about a project,' he explains to camera, adding that he's looking forward to 'fiery debate'.
Some lucky fans were treated to a look at Cena as 'Kenmaid' during the Barbie panel at CinemaCon back at the end of April, but this is the first time we've seen the goods publically.