Entertainment Desk : dhakamirror.com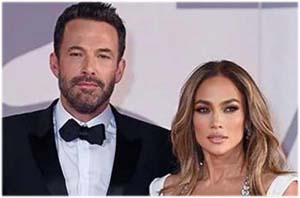 Jennifer Lopez might have been known for her singing and acting skills, but when it comes to fashion, she can literally make the supermodels run for their money as she knows how to own the red carpet being a fashionista.
However, her loving husband, Ben Affleck, often gives his opinion on her outfits and as per JLo, it's mostly roasting rather than complimenting. Keep on scrolling to get the scoop!
Jennifer and Ben have a beautiful bond that comes with love, laughter and a lot of banter. However, the gorgeous couple had tied the knot on August 20, 2022, and since then, the couple has been making headlines every now and then.
Recently, Jennifer Lopez appeared on the chat show Live with Kelly and Mark's latest episode, where she talked about how she and Ben Affleck got ready for the red carpet and how his opinion made her become better in fashion. Talking about the same, JLo shared, "He doesn't come to the fittings or anything like that. But, if I'm getting dressed and we're going to a red carpet or some big event I'm like, 'What do you think? This one or this one? Do you like this or do you like this?' Stuff like that."
Going further in the conversation, Jennifer Lopez revealed that Ben doesn't have a specific thing to say about her looks, but sometimes he likes to roast her over her s*xy outfits. She shared, "It's just whatever looks the nicest or what he thinks looks the nicest in that moment. He'll joke with me sometimes and say, 'Where's the rest of the shirt?' And I'm like, 'No, this one doesn't have anything else."
At the Met Gala 2023, Jennifer Lopez walked on the red carpet looking gorgeous as ever as she wore a Ralph Lauren cut-out outfit while flashing her washboard abs like a pro.
Earlier in an interview with Hollywood Reporter, Ben Affleck opened up about his wife JLo's fashion sense and showered praises on her, "Oh, my God, she's brilliant. She is incredibly knowledgeable about the way fashion evolves through the culture as a confluence of music, sports, entertainment and dance."