Entertainment Desk : dhakamirror.com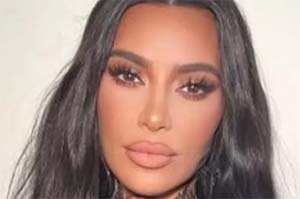 Kim Kardashian opened up about her ex-husband Kanye West's global controversy when he made anti-Semitic comments and got cancelled by major brands.
The reality TV megastar discussed the rants of the rapper, who now goes by Ye, during the fresh episode of The Kardashians with her younger sister Khloe Kardashian.
Kim teared up during the episode when she was asked how she was doing, claiming she was "not OK" and that she would do anything to bring the old Kanye back who she once "loved."
"I'm just having such a hard day today," the Skims founder said as she wiped her tears and noted that she has been wearing the same clothes for days now due to overwhelming sadness.
In a confessional, the mother-of-four said, "It sucks, you know? When someone doesn't see how different they are. It's really confusing for me, it's so different than the person that I married."
"Because that's who I loved and that's who I remember and … I'll do anything to get that person back," she added.
She then vent out to Khloe, saying she "feels bad" for West. "I don't even think he feels bad for himself," Kim said, "because I don't even know if he knows how."
Kim then revealed that she did not have the guts to reach out to her ex-husband, with whom she shares four kids, due to fear that he would "go off on [her]."
"The whole situation is sad and I don't know how to emotionally manage it," Kim explained. "I'm conflicted because I don't ever want to jump in and be a part of a downfall for the father of my kids."