News Desk : dhakamirror.com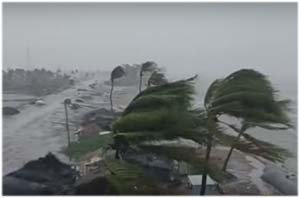 Mocha makes landfall in Myanmar, weakens; causes no serious damage in Bangladesh
Cyclone Mocha veered towards Myanmar and eventually made landfall there a few hours earlier than forecast and it did not cause massive damage that many in Bangladesh feared.
Around 13,500 houses were affected by the cyclone in Cox's Bazar, including St Martin's Island, and the Rohingya refugee camps. And some 15 to 20 people had minor injuries, said officials concerned.
Mocha hit Myanmar with windspeeds of around 209kmph
Around 1:00pm, St Martin's Island in Bangladesh saw windspeeds of around 100kmph, Nazmul Haque, a meteorologist at Bangladesh Meteorological Department (BMD) said.
The storm crossed the Myanmar coastline by evening and weakened into a deep depression over Sittwe, Myanmar, a BMD bulletin said.
The Met office advised "cautionary signal number-3", which means ships at ports could be in harm's way and the windspeeds will be between 40kmph and 50kmph, for port authorities of Cox's Bazar.
The Damages
Around 1,000 houses and 100 cottages for tourists were damaged on St Martin's Island, said Mujibur Rahman, chairman of St Martin's union parishad.
The cyclone unleashed havoc on the island, he said. There is a severe crisis of drinking water.
A woman was injured after a tree fell on her, he said.
People started returning home in the evening. But the children and the elderly people were still at the cyclone shelters, he said.
However, Cox's Bazar's Additional District Magistrate Abu Sufian said some 700 houses were damaged on the island.
In the Rohingya refugee camps of Cox's Bazar, a total of 2,826 shanties were affected by Mocha, said Refugee Relief and Repatriation Commissioner (RRRC) Mizanur Rahman.
Among those, 278 shanties were destroyed while 2,548 were damaged, according to a report from the office of RRRC around 11:00pm.
Seven Rohingyas were injured, the report said.
Besides, 32 learning centres, one healthcare centre and 29 mosques were also affected, the report said.
There were landslides in 120 places inside the camps, the report said, adding that 5,386 Rohingyas had been relocated to safety.
According to the preliminary data of the district administration, at least 2,522 huts were destroyed and 10,469 houses were damaged in the eight upazilas of Cox's Bazar.
Over 3.34 lakh people in the upazilas were affected by Mocha and over 2.37 lakh took cover in cyclone shelters.
People started returning home from the cyclone shelters yesterday afternoon, said Bibhishan Kanti Das, additional deputy commissioner (ADC) of Cox's Bazar.
Some 15 to 20 people were injured in Cox's Bazar. They took first aid and went home, claimed Md Abu Sufian, additional district magistrate (ADM) of Cox's Bazar.
The people of Hatiya and Nijhum Dwip in Noakhali were fearing tidal surges last night.
"We have warned people about tidal surges and directed them to rush to the cyclone shelters if there were tidal surges," said Hatiya Upazila Nirbahi Officer Md Kaisar Khasru.
There was no significant damage caused in Noakhali by the storm.