Free trade unionism, workplace safety, wage hike demanded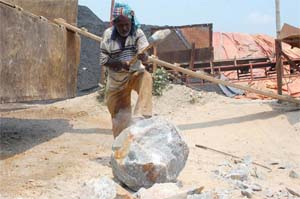 Bangladesh along with the rest of the world is set to observe May Day today (Monday) with demands for ensuring workers' rights, including rights to workplace safety and free trade unionism.
To observe the day, various labour bodies will hold rallies, bring out processions and organise discussions to press home their demands, including the national minimum wage of Tk 20,000 and workplace safety.
This year the theme of the day in Bangladesh is 'Sramik-Malik Oikya Gari, Smart Bangladesh Gare Tuli.'
The day is a public holiday.
May Day, also known as International Workers' Day, marks the 1886 uprising of workers at Hay Market in Chicago for their rights, including an eight-hour working day.
Several workers were killed in police firing, for which the day was initially marked as a black day.
President Mohammed Shahabuddin and prime minister Sheikh Hasina today issued separate messages on the eve of the historic May Day.
They extended their greetings to all working people of the world, including Bangladesh, wishing success of all programmes on the occasion.
The labour and employment ministry will hold May Day discussions to mark the day at Bangabandhu International Conference Centre at 11:00am where Speaker Shirin Sharmin Chaudhury will address the programme as the chief guest.
The Left Democratic Alliance, a platform of six left-leaning parties, in a statement said that an eight-hour working day was not established in the country even after 137 years of the historical event.
It demanded removal of barriers to free trade union practice, job security, liveable minimum wage for workers, rations at army rate and a democratic labour law for all workers.
Communist Party of Bangladesh president Shah Alam and secretary Ruhin Hossain Prince in a press statement said that labour law was not being implemented to protect the rights of workers though the law was not worker-friendly.
They said that economic discrimination was becoming wider in the country as workers were denied their rightful wages.
'Set minimum wage at Tk 20,000 immediately,' the statement read.
They also demanded rations, residence and health safety for the workers.
The main opposition Bangladesh Nationalist Party's labour front Jatiyatabadi Sramik Dal, will hold a workers rally in front of its Naya Paltan central office at 2:00pm.
The CPB will hold a rally in front of its central office at Purana Paltan at 8:00am.
The Ganosamhati Andolan will hold a rally in front of the National Press Club at 10:30am.
The Jatiya Samajtantrik Dal, Jasod will hold a rally in front of its central office at Bangabanhu Avenue at 11:00am.
Sramik Karmachari Oikya Parishad will hold a rally at PuranaPaltan crossing at 11:00am to press its nine-point demand.
The Garment Workers' Trade Union Centre will hold a rally at Purana Paltan crossing at 10:00am.
Bangladesh Nationalist Party secretary general Mirza Fakhrul Islam Alamgir in a statement said that many workers were suffering hardship and facing starvation and price hikes of the essential commodities but the government ministers and leaders were only engaged in lip service which reached the suffering of the victims at its peak.
Socialist Labour Front president Razekuzzaman Ratan and general secretary Ahsan Habib Bulbul in a joint statement said that fair wages and an eight-hour working day were not established in this country.
May 1 was adopted as International Workers' Day by socialist delegates in Paris in 1889. More than 400 delegates met in Paris on the centenary of the French Revolution at the Marxist International Socialist Congress, the founding meeting of the Second International.
The 1889 resolution called for a one-time demonstration but it became an annual event in course of time.
May Day was celebrated in Russia, Brazil and Ireland first in 1891.
– Article originally appeared on New Age.