News Desk : dhakamirror.com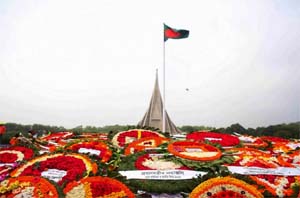 The nation is celebrating 53rd Independence and National Day today in a befitting manner.
The government has undertaken elaborate programmes marking Independence and National Day, reports UNB.
President Abdul Hamid and Prime Minister Sheikh Hasina paid tributes to the martyrs of Liberation War — placing wreaths at the National Memorial in Savar this morning.
On the way of her return from the National Memorial, the PM also paid homage to the Father of the Nation Bangabandhu Sheikh Mujibur Rahman by placing a wreath at his portrait in front of Bangabandhu Memorial Museum at Dhanmondi 32 in Dhaka, UNB adds.
After placing the wreath, she stood there in solemn silence for some time as a mark of profound respect to the memory of Bangabandhu, the architect of Bangladesh's independence.
Sheikh Hasina stayed at Bangabandhu Memorial Museum for some time.
Flanked by central leaders of Awami League, Sheikh Hasina laid another wreath at the portrait of Bangabandhu on behalf of AL.
Earlier, President Abdul Hamid and Prime Minister Sheikh Hasina issued separate messages extending heartfelt greetings and warm felicitations to Bangladeshi citizens at home and abroad on the occasion of Independence Day.
The day began with a gun salute and wreath-laying ceremony at Savar's National Memorial in honour of the Liberation War martyrs.
The memorial area was opened to the general public following the departure of the president and the PM around 6:10am, reports our Savar correspondent.
Various political parties and organisations as well as common people gathered at the memorial to pay tributes to the brave martyrs of the nation with flower wreaths.
The monument premises became lively with the arrival of people of all ages, including children and the elderly. Officials and employees of various institutions including government, private, semi-government, educational institutions rallied to the national memorial with various banners and festoons. The altar of the monument was filled with their floral tributes.
Abdul Ali, a garment factory official who came to the memorial with his school-going children, said that compared to other years, less people have come due to Ramadan.
"I come every year on this day to the memorial with my children. It feels good to be here this year again," he said.
At sunrise, the national flag was flown over all government, semi-government, private, and autonomous buildings. All significant buildings and establishments will be illuminated after sunset, UNB also reports.
National dailies have brought out special supplements, while Bangladesh Betar, Bangladesh Television, private radio stations and television channels are airing special programmes highlighting the significance of the day.
Bangla Academy, Bangladesh Shilpakala Academy Shishu Academy, National Museum, Liberation War Museum, and other social and cultural organisations are scheduled to host seminars, cultural programmes, painting and sports competitions for children, as well as film and documentary screenings on the Liberation War.
Families of martyrs and freedom fighters will be honoured at the metropolitan, district, and upazila levels today. Bangladesh Post Office Department unveiled a special commemorative stamp to mark the day.
Meanwhile, different religious institutions will hold special prayers and doa mahfil praying for the country's peace, development and prosperity.
Special food will be distributed at institutions like hospitals, jails, children's homes, old-age homes, and day care centers, adds UNB.
Children's parks and museums will remain open to all throughout the day. Also, vessels of the Bangladesh Navy and Coast Guard will remain open from 2 pm until the evening for people to visit at Chattogram, Khulna, Mongla, Payra Port, and Bangladesh Inland Water Transport Authority (BIWTA) terminals in Dhaka, Narayanganj, Barishal and Chandpur.
Similar programmes at district and upazila levels and Bangladesh embassies in different countries will be arranged to highlight the significance of Independence Day.