Shykh Seraj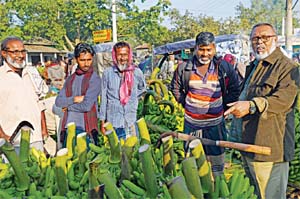 Agriculture in Tangail region has changed a lot in the last three decades.
Once the land of this region was unfit for any cultivation. Back then, it wasn't possible to grow crops due to uneven land surface and lack of irrigation facilities.
In the early 80s, the topography of Tangail's Sakhipur, Ghatail, Basail and Madhupur upazila were almost the same.
But nowadays, a great variety of fruits has reached the region. Alongside pineapple, banana has now become a cash crop for many local farmers.
Different varieties of bananas like Sagar, Chinichampa, Shabri and Bangla Kabri are now being cultivated in different upazilas of the district.
Meanwhile, Kutubpur Banana Bazaar, located in Sakhipur upazila, has become a famous banana market for both the buyers and sellers in the region.
While visiting the banana market, one can see a different kind of busyness around the market area in the morning.
Farmers are seen bringing bananas on bicycles or rickshaw-vans while rows of bicycles, full of bunches of bananas, are parked at different spots.
One of the banana farmers said it costs Tk 180 to Tk 200 to produce a bunch of bananas. They sell each bunch of bananas to the wholesalers for Tk 400 and make a profit of Tk 200.
It has been calculated that about 500 banana trees can be planted in 35 decimals of land and growers can make a profit up to Tk 1 lakh from those trees.
Although banana cultivation started on a small scale in Tangail, Sakhipur has now become one of the major regions of banana farming due to proper irrigation facilities.
Farmers across the country follow various techniques as they have their own sustainable methods of ripening and marketing this fruit.
Banana farmers and traders at Kutubpur Banana Bazar said they grow bananas keeping people's health in mind.
The good news is that many young entrepreneurs are also getting involved in banana farming nowadays.
I got the chance to go to Kutubpur Banana Bazar again after a long time.
Farmers said some of them sold the bananas directly from their orchard, while most of them sell their produces at Kutubpur Bazar.
Each bunch contains at least 100 to 120 bananas and local wholesalers pay Tk 400 to Tk 450 for each bunch.
On an average each banana costs Tk 3.5 to Tk 4, but the retail price of each banana is not less than Tk 8 to Tk 10.
Banana farmers in Tangail region are happy as proper irrigation facilities and a little guidance have taken them far way.
I was talking to some of the elderly farmers, who remembered the old days.
Once there was a cry for water in Tangail region.
Tangail Agricultural Development Project (TADP) has brought not only irrigation facilities but prosperity to the people of the area. This has been a blessing for the farming community in the region.
I believe, the kind of high-value crops that are now being produced in the hilly soil of Tangail is a model for other regions of the country.
I hope, as a predominantly fruit-growing area, local farmers will witness more prosperity in near future.
– Article originally appeared on The Daily Star.