Farmers get higher yield from newly developed rice variety
Sajjad Hossain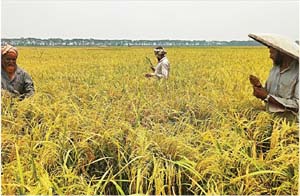 Mannan Joaddar cultivated BINA Dhan-25, a newly developed variety of paddy, on one bigha of land in Moghi village of Magura 93 days ago.
The 55-year-old farmer is now over the moon. He had not seen such thin and long grain in his 20 years of farming.
"I am hoping to get around 30 maunds of crop, which would be more than any other variety I have grown so far. It looks more like Basmati rice," Mannan told The Daily Star yesterday.
In the last season, he grew BRRI Dhan-63 on the same land and had about 22 maunds of paddy. He spent Tk 10,000 to produce the paddy.
This time he is expecting to get more paddy spending the same amount of money.
"BRRI Dhan-63 has a life cycle of over 120 days whereas BINA Dhan-25 can be harvested in less than 100 days," the farmer said.
Bangladesh Institute of Nuclear Agriculture (BINA) developed the new variety and supplied it to the farmers of 396 upazilas of 22 districts last year. This variety was developed from BRRI Dhan-29, officials said.
BINA officials recently visited two villages in Magura to see the yield.
Around 20 farmers in Moghi of Magura Sadar upazila and Bhaturia Danga of Mohammadpur upazila cultivated this variety.
Yasir Uddin, a farmer of Bhaturia Danga village, has also grown the variety on his 1.5 acres.
He is expecting to sell the paddy for Tk 1,400 to Tk 1,500 a maund. Last year, he sold BRRI Dhan-63 for Tk 1,200 to Tk 1,250 per maund.
"I've cooked the rice and it tasted good," he said.
The new variety of paddy comes at a time when many millers cut and shape coarse rice into fine one using different methods. Nutrients such as zinc and iron are reduced in the process.
But BINA Dhan-25 needs not excessive processing as the rice is normally fine, said BINA officials.
Mirza Mofazzal Islam, director general of BINA, said any paddy usually contains 6.5 to 7.5 percent protein, but this has 9.1 percent protein.
"Due to its higher yield, dependence on imports could be reduced."
The cost for producing this variety on one bigha, including fertilizer, water, pesticide, and seed, is Tk 10,000, he said.
Sakina Khanam, BINA'a principal scientific officer, who played a significant role in developing the BINA Dhan-25, said farmers could preserve its seed for a long time.