EAM Asaduzzaman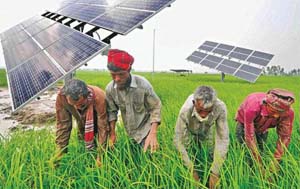 Life is easier now for Abu Taleb, 45, a potato farmer of Saddyo Puskuruni village in Rangpur.
A year ago, high irrigation costs for diesel-run pumps, which he bore out-of-pocket, made it difficult for him to provide for his three children.
Now, after switching to solar-powered irrigation, his livelihood has changed for the better. "I can now afford new clothes and nutritious food for my family," he said.
Like Abu Taleb, thousands of farmers in five northern districts are reaping benefits from the solar-powered irrigation system — five times cheaper than diesel-run pumps.
This happened after Barind Multipurpose Development Authority (BMDA), in Rangpur Division last year, introduced the new system with the aim of promoting environment-friendly approaches to agricultural production and boosting climate-resilience of farmers.
Under the project, 50 ring wells are supposed to be set up, at a cost of Tk 22 lakh each, in Rangpur, Gaibandha, Kurigram, Lalmonirhat and Nilphamari. So far, 34 wells have been put into operation while the rest are likely to be set up by the end of this year.
Another farmer, Yunus Ali from Botlagari Borodaha village in Nilphamari, said, "With solar-powered pumps, we pay only Tk 50 per hour for irrigation of one bigha of land whereas the cost was Tk 250 for diesel-run shallow pumps."
Previously, Ali had to irrigate crops through multiple rounds, which meant the total cost was around Tk 2,000 for four months. Solar-powered pumps also require less rounds. "I irrigate three times per cycle now and pay around Tk 150," said Ali.
Visiting several sites in the Rangpur district, this correspondent found that six to seven solar panels were installed on umbrella-shaped metal structures above deep ring wells.
"Rainwater, or surface-level water, stored in these deep ring wells is pumped up 120 feet through these pipes, which is then channeled to the crops," explained Alamgir Md Ruhul Islam, assistant engineer of Nilphamari BMDA.
Md Shafiqul Islam, executive engineer of Gaibandha BMDA said around 1,700 bighas of land are being irrigated with the 34 functioning wells in the five districts.
"Some 40-50 bighas of land can be irrigated by each well. Six to seven wells are functioning in Gaibandha at present," he added.
Abdul Baten(40), another potato farmer from Rangpur, who has benefited from solar power, said, "Expanding this project will ensure that more farmers are safeguarded from high fuel costs and the uncertainty of load-shedding."
Habibur Rahman Khan, the project director, said they will consider expansion if the margins reflect significant improvement.