Mostafa Shabuj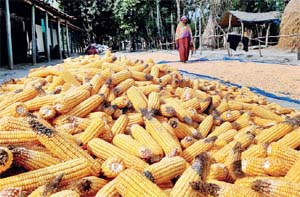 About two decades ago, farmers in remote char areas of northern Bangladesh were quite impoverished due to the consequences of repeated flooding and other natural disasters.
Now though, these farmers have achieved financial stability by growing maize, which is more suitable for the region compared to other crops.
For example, more profitable crops such as jute and chili are easily damaged by heavy rain and pests but maize carries less risk in this regard while also providing ample returns, according to Nazir Uddin, a farmer of Kalur Para char under Saghata upazila of Gaibandha.
Mofiz Uddin, a farmer of Dighatkandi char in the same upazila, said a farmer can profit up to Tk 80,000 by cultivating one bigha of chili while growing maize on the same amount of land would earn him just over Tk 30,000.
But despite the considerably lower returns, growing maize bears little to no risk compared to chili while it only costs as much as Tk 9,000 to cultivate, he added.
Nurunnabi Mollah, a farmer of Deluabari char under Fulchari upazila, said cultivating jute is highly profitable but huge quantities of the crop are damaged by early floods each year.
"So, all things considered, we only get good profits from maize," he added.
The financial condition of farmers in char areas was very poor until they started receiving stable profits from cultivating maize, which brought economic prosperity to the region," said Nazir Uddin, who first started growing maize in the upazila's char Jamira some 20 years back.
Jakirul Islam, a farmer of char Dakatmara under Bogura's Sariakandi upazila, said he cultivated three bighas of maize at a cost of around Tk 24,000 this year.
"I harvested two bighas already and got around 70 maunds [one maund equals 37 kilogrammes]," added Islam, who made a profit of Tk 40,000 from the crop currently selling for about Tk 1,400 per maund.
Liton Mia, a farmer of char Tekani in the district's Sonatal upazila, said he cultivates other crops with the profits earned from growing maize.
"You will surely profit by cultivating maize but other cash crops are risky," he added.
Badar Uddin, a union parishad member of Fulchari upazila, said some 10,000 people live in Deluabari char, which was established around 40 years ago.
People in the area did not see much economic progress before cultivating maize but now, they are making quick progress.
"You will find that every char family now has a motorcycle, freezer, cattle and much more. The main is that maize cultivation has eradicated poverty in the region in many ways," he added.
So, the expansion of maize grows ever quicker, especially in char areas, as the crop offers high profit for low investment.
In Gaibandha, farmers cultivated 17,200 hectares of maize, 11,000 hectares of which were in char areas. Similarly, 12,000 hectares in Bogura were brought under maize cultivation this year, according to the Department of Agricultural Extension (DAE).
Farmers in Bogura had cultivated 8,750 hectares of maize last year but this year, the acreage has increased to 12,000 hectares, said an official of the local DAE.
DAE officials expect maize yields in Bogura and Gaibandha will amount o nearly 3 lakh tonnes, which is estimated to be worth more than Tk 1,050 crore at the current market price.
According to the Bangladesh Wheat and Maize Research Institute, farmers in the country cultivated only 7 lakh tonnes of the crop in 2009 while it was 54 lakh tonnes in 2020.
Anamul Haque, additional deputy director of the DAE in Bogura said, maize cultivation is expanding in char areas for different reasons.
First, maize farming is increasing for the crops uses in different industries, such as bakery, poultry and fish farming businesses.
Second, maize imports have declined amid the ongoing Russia-Ukraine war and US dollar crisis.
Third, maize requires low investment and care but give bumper yields and profits.
And fourth, some private companies are importing high yield seeds that provide around 12 tonnes of maize per hectare.
"Therefore, maize is now the best cash crop for farmers in char areas," Haque added.