Dipankar Roy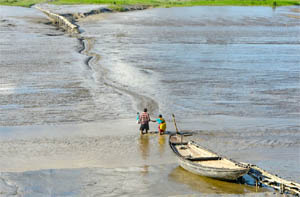 The once mighty Shoilmari river in Khulna's Batiaghata upazila can now only be called a river on paper. In just three years, it has been filled with silt.
The once 150-metre-wide river has now turned into a 3 to 4-metre narrow channel. Boats cannot sail there in low tide and people can cross its stretch by walking.
Experts say the lack of upstream flow, unplanned dams, and construction of sluice gates are responsible for the river's death. Besides, after piling pillars for Rupsha Rail Bridge, the connecting river Shoilmari was silted within a short period.
BWDB officials say a huge amount of silt deposited on the river bed that comes through tide is a common trend in the southwestern region. Khulna's Batiaghata is no exception.
The water supply from at least 100 villages, including Dakatiya beel, Gutudia and Panchu, has been cut off as Shoilmari river's water disappeared. Besides, these areas also run the risk of waterlogging in near future due to the river's disappearance.
This correspondent visited Dhani Bunia, Soilmari, Uttar Shilmari, Hogolbunia, Hatbati, Choighoria, Jolma, Batiaghata, Khalashibunia, Baguladanga, Par Batiaghata, Mailmara along the river basin.
At Dakshinpara area of Uttar Shoilmari, some villagers have already occupied the river beds and filled the areas with sand. A similar situation was noticed in Hogolbunia Khayaghat area.
Brick kilns have also been built by encroaching the river.
At Ramdia sluice gate area of Jalma union, eight out of nine gates were seen closed due to the siltation of the river.
"Shoilmari was over 800 to 900 feet wide. Just 10 years ago, three launch routes from this river used to carry passengers to Koyra, Paikgacha in Khulna and Burigoalini in Satkhira district. Shoilmari began to fill up in 2015-16 and within a few years, the water flow stopped," said Nimai Chandra Roy (72), a former primary school teacher of Khalashi Bunia village, who used to cross the river to attend classes in the '90s and 2000s at Dumuria upazila.
Motiar Rahman, a resident of Uttar Soilmari village who retired from BWDB in 2008, said he was engaged in the construction of the embankment and polder 28/2 in the 70s.
"Due to excessive silt coming from the river's two heads, some brick kilns that occupied the river bed contributed to the river's dying state. If the river is not excavated, people will not be able to live in this area," he said.
Panchanon Golder, a mobile fish trader of Chalksoilmari village, said, "Earlier, I used to cross the river to go to Khulna by boat or trawler every morning. But in the last two years, boats don't run during low tide."
"Very often I crossed the river by walking in knee-deep mud. Locals used to catch fish, including Hilsa, Loitta and shrimp, from here. However, very few fish can be found in the river now," he said.
ABM Shafiqul Islam, president of Pani Committee, a civil society platform which works on rivers and water in the Khulna region, said, "The coastal rivers are naturally under the influence of tides. Upstream water used to balance these rivers. But in the name of river management, unplanned dams and construction of sluice gates are killing the river. Soilmari is a victim of it."
Ashutosh Barman, executive engineer of BWDB, Khulna Division-1 said, "We issued a notice for evicting the illegal structures, including brick kilns. We also plan to dredge the river."
However, he mentioned nothing about the tentative period required for excavation.