Entertainment Desk : dhakamirror.com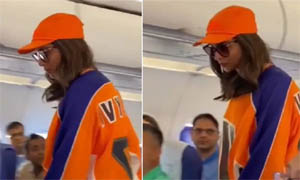 Bollywood diva Deepika Padukone was spotted flying in economy class recently.
It seems like Deepika Padukone opted to fly economy instead of taking a first-class seat during her recent travel. A video has been shared on Reddit showing the Pathaan actress making her way from the far end of the craft and heading to the washroom. Deepika maintained a low profile on board the flight, avoiding any kind of attention towards her.
In the video, Deepika was seen wearing an orange ensemble with a baseball cap to help keep fans' attention at bay. It isn't clear when and on which flight she was on board.
Celebrities flying in economy class is not a rare phenomenon. In December 2022, fans spotted Bollywood power couple Katrina Kaif and Vicky Kaushal flying economy. Kartik Aaryan, the star of "Bhool Bhulaiyaa," was frequently in the news for traveling in economy class. Last year, he was also spotted clicking selfies with fans and having a blast with them!