Entertainment Desk : dhakamirror.com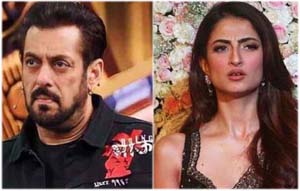 Palak Tiwari, the daughter of Shweta Tiwari, recently made her debut in the film 'Kisi Ka Bhai Kisi Ki Jaan' alongside Salman Khan and Pooja Hegde. During the movie promotions, Palak made headlines when she revealed Salman's rule against women wearing low necklines on film sets.
Her statement went viral, and Salman responded to it in a recent interview, facing backlash on social media. Palak has now admitted to making a mistake with her statement and said that it was a 'learning experience.'
Palak received a lot of criticism for her statement that Salman wants his female co-stars to be covered on sets, as people pointed out that Salman himself has often shown off his body. When asked about it on Aap Ki Adalat, Salman confirmed that Palak's statement was true and explained why. However, Palak later clarified her comment in an interview.
Palak also said, 'It's part and parcel of what we do. Also, I'm not really taken aback by it, since I know Salman sir is an extremely understanding individual and he knows me. He knows that I would never say anything malapropos about him, ever. I take this as more of a learning experience. This is the best way to learn, making a mistake (since) I never want to be in that position again. I think it's the most conducive way to learn. I made a mistake, I'll learn and it's something I'll keep in mind for the rest of my life now.'
Salman disclosed the explanation previously and stated, 'When a decent movie is made, everyone watches it with their family. There is no double standard. I just think women's bodies are more precious. So, the more covered they are, the better I feel about it. The problem isn't with women but with men. The way men stare at women, your sister, your wife, your mother. I don't like that.'
The movie 'Kisi Ka Bhai Kisi Ki Jaan' featured actors Shehnaaz Gill, Siddharth Nigam, Raghav Juyal, and Jassie Gill in prominent roles, and it performed well in theaters.