Entertainment Desk : dhakamirror.com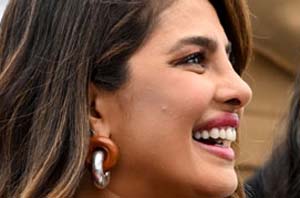 Actress Priyanka Chopra Jonas has revealed the reason she left Bollywood and moved to working in the US. She said that she had "beef with people" and was pushed into a corner.
Speaking on the latest episode of Dax Shepard's podcast Armchair Expert, Chopra said she had "beef" with people in the Indian film industry, where she made her name.
"I was being pushed into a corner in the industry," she said.
"I had people not casting me, I had beef with people, I am not good at playing that game so I kind of was tired of the politics and I said I needed a break."
Chopra said that despite people telling her to try for acting roles in the US, it was her short-lived music career, which she recently described as "lasting two seconds", that became her gateway to Hollywood.
"This music thing gave me an opportunity to go into another part of the world, not crave for the movies I didn't want to get but I would require to schmooze certain clubs and cliques of people," she said.
"It would require grovelling and I had worked a long time by then that I didn't feel like I wanted to do it."
However, speaking to People earlier this month, she revealed she quickly realised the music business was not for her.
"[It's] insane what musicians do," she said. "I don't know how they do it … tour life is really crazy. It's so hectic.
"You have late nights, and early mornings, you're travelling to a different city every day and you do it for three months."
"That's why my music career lasted two seconds," she said. "I was not meant to do that. This rockstar life is … I admire it tremendously. It's definitely not for the weak-hearted."
After releasing three singles, Chorpa found her way back to acting, landing a leading role in ABC thriller Quantico. The role made her the first South Asian actor or actress to headline a network television drama series in the US.
She went on to star in several Hollywood blockbusters including Baywatch, The Matrix Revolutions and The White Tiger.
Chopra married musician Nick Jonas in 2018 and in January last year, they welcomed their first child together via surrogate, a daughter named Malti Marie.