Raju Srivastav had been hospitalised for 40 days after cardiac arrest
Entertainment Desk : dhakamirror.com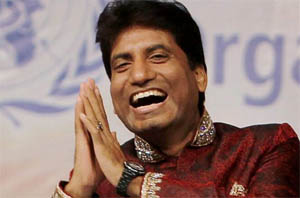 Raju Srivastava, a comedian and actor, died on Wednesday at the age of 58. Following a cardiac arrest he had last month while using a treadmill at a gym, he was receiving treatment at the All India Institute of Medical Sciences (AIIMS) in New Delhi. Srivastava had previously had stents implanted due to a history of heart disease.
Since then, he had been on life support and had begun to show some indications of recovery. Prime Minister Narendra Modi reportedly called Raju Srivastava's wife to check on his health and wish him a quick recovery, according to a previous story. Rajnath Singh, the defence minister, and Yogi Adityanath, the chief minister of Uttar Pradesh, both called Srivastava's family to wish him a swift recovery.
Since the news of the comedian's passing surfaced, his colleagues and friends in the business have sent their condolences. Leading figures from the film industry and politics expressed their condolences for his passing.
Since the late 1980s, Raju Srivastava has worked in the entertainment industry. In movies like Maine Pyar Kiya, Baazigar, Bombay to Goa, and Aamdani Atthanni Kharcha Rupaiya, among others, he played cameo roles. After performing as a stand-up comic on The Great Indian Laughter Challenge, he became well-known. Later, he took part in season three of the hit reality series Bigg Boss. Additionally, he presided over the Uttar Pradesh Film Development Council.