Sports Desk : dhakamirror.com
According to Sportskeeda, Saudi Arabia is keen to sign some of the most iconic football players in the world, including Lionel Messi, to whom Al-Hilal made a big offer.
Journalist Florian Plettenberg made these remarks and went on to claim that Saudi Pro League clubs are looking forward to the transfer of five more players.
The players include Argentina's Angel Di Maria, Spanish defender Sergio Ramos, Liverpool forward Roberto Firmino, Barcelona's striker Robert Lewandowski, and Real Madrid's Luka Modric.
Recently, Benzema parted ways with Real Madrid to join Saudi's Al-Ittihad — which is recently crowned the league champions. This might not just end here as other players are reportedly expected to move to the Gulf country.
"News Benzema: Several team mates were aware of the interest from Al-Ittihad for a long time. Ronaldo and Benzema, they are just the beginning: Ramos, Di Maria, Lewandowski, Firmino, Modric are all on the list of Saudi Arabia. A transfer of Benzema was the project of the highest bosses from Saudi Arabia," wrote Plettenberg.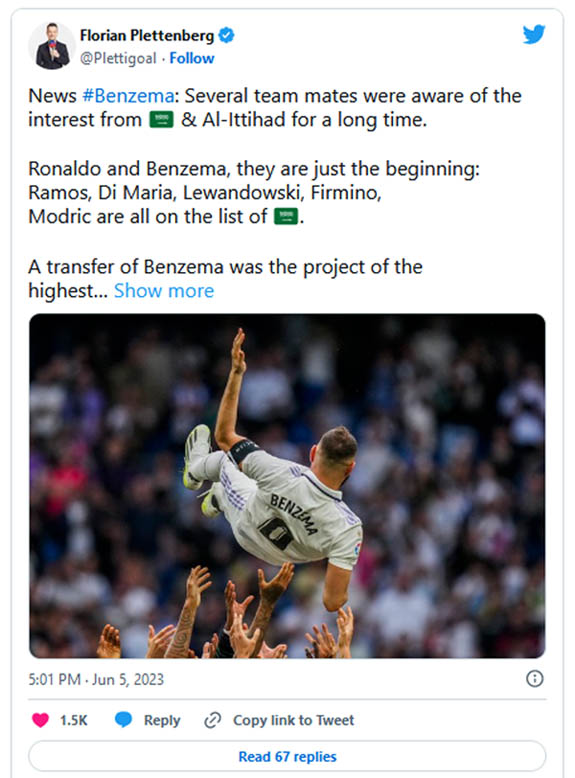 Five-time Ballon d'Or winner Ronaldo was the first one to join a Riyadh-based club in December on a free transfer after the termination of his contract with Manchester United in the middle of the season.
According to Plettenberg, Saudi clubs want to transfer footballers on free transfers. Firmino, Di Maria, Ramos and Luka Modric's contracts will end by this month's end.
Meanwhile, Ramos and Firmino have announced their departure from Paris Saint-Germain (PSG) and Liverpool, respectively. Lewandowski has a contract signed with Barcelona until 2026.
According to journalist Fabrizio Romano, Argentine footballer Lionel Messi has been offered from Saudi's Al-Hilal. He is looking at options following his departure from Paris St Germain.