News Desk : dhakamirror.com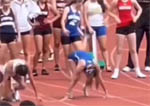 In an incredible moment, a girl showed the courage to win a race despite falling early in the race. A video of her incredible performance was posted on Instagram and it would inspire you.
The video was first published on the Old Tappan Track & Field Twitter account. Girls' hh trials for the Bergen County Championships. Abigail Dennis put out an amazing effort. Must watch," they tweeted a few months back in reference to the video.
After being reposted on the Instagram page Goodnews Movement, the clip is already making waves. They added a cute caption to the video when they uploaded it, "GO, ABBY, GO! Despite falling toward the beginning of the race, Abby still finds it in her to win the race! It's not over 'til it's over… you got this!"
Watch the video below:
View this post on Instagram
A post shared by Good News Movement (@goodnews_movement)
The video starts off with runners navigating hurdles in a race. The woman, named Abby, trips and collapses while her rivals proceed. She persists though, gives it her best, and eventually triumphs in the race.
A day ago, the video was published. The video has received more than 7.9 lakh views since it was shared, and the numbers keep rising. Additionally, the video has received nearly 32,000 likes. People have also left a variety of comments in response to the share.
As one Instagram user stated, "Wait what? That is incredible," while another, "Good job," commented a third, "Imagine if she had lost her focus after her fall! But she did it!! Great job!" "I LOVE these stories… Completely inspiring," wrote a fourth.