World Desk : dhakamirror.com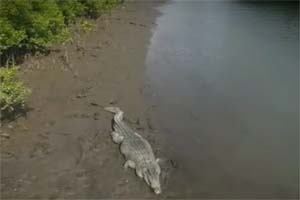 Human remains were discovered inside the stomach of a crocodile shot dead by rangers during their search and rescue operations.
Police believe the remains are those Mr Darmody, although this is yet to be confirmed by a formal identification process.
Kevin Darmody, from Laura, went missing in the Rinyirru (Lakefield) National Park about 340 kilometres north-west of Cairns at 3.30pm on Saturday.
A nearby fisherman friend reported he had heard a splash and believed Darmody had been attacked by a crocodile.
A wide-scale search was launched to find Darmody, with wildlife officers capturing two crocodiles in the area on Tuesday.
The two crocodiles were euthanised and police believed they had found Darmody's remains inside one of the crocodiles.
"Police believe the remains are those of the missing 65-year-old Laura man, pending the formal identification process," police said.
Authorities believe the two crocodiles, which were 4.1 metres and 2.8 metres in length, were involved in the attack.
They were found upstream from where Darmody was last seen.
Police will prepare a report for the corner.
– Input from Brisbane Times was used in this article.