World Desk : dhakamirror.com
A girl missing for nearly six years has been found safe in North Carolina, and her non-custodial mother is in jail.
Kayla Unbehaun was last seen on July 4, 2017, when she was nine-years-old. But when her father, Ryan, went to pick her up from her mother's house on July 5, she was not there.
Ryan had full custody of Kayla, while her mom, Heather Unbehaun, only had visitation rights.
In the years after her disappearance, the National Center for Missing and Exploited Children (NCMEC) posted an alert online and would post age-progression photos to show how she may look in present times.
The case was also famously mentioned in Netflix's Unsolved Mysteries series, which is about parental abductions.
But over this past weekend, a store owner – who reportedly watched the show – recognised Kayla at a shopping center in Asheville and informed police right away.
While details of her recovery have not yet been disclosed, Kayla – who is now a teenager – was taken into protective custody.
Her mom is currently being held on $250,000 bond and is awaiting extradition.
The National Center for Missing and Exploited Children said they are 'excited to share that Kayla Unbehaun has been FOUND SAFE in North Carolina!'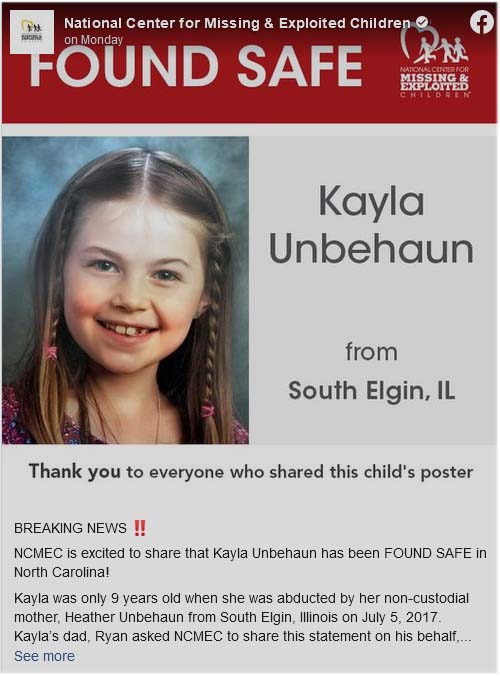 Kayla's dad asked NCMEC to share this statement on his behalf, which read: "I'm overjoyed that Kayla is home safe. I want to thank @ElginPDFD, the National Center for Missing & Exploited Children and all of the law enforcement agencies who assisted with her case.
"We ask for privacy as we get to know each other again and navigate this new beginning," he concluded.