News Desk : dhakamirror.com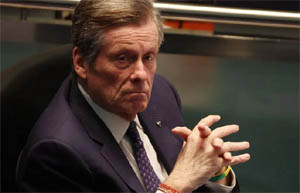 The mayor of Canadian city Toronto has resigned unexpectedly after admitting to a relationship with a former staff member.
The announcement came shortly after the Toronto Star newspaper published an article revealing the affair with the unnamed 31-year-old woman.
He said the affair started during the Covid-19 pandemic and was "ended mutually by consent this year".
The 68-year-old called the relationship "a serious error in judgement."
In a statement Mr Tory said: "I am deeply sorry, and I apologise unreservedly to the people of Toronto, and to all of those hurt by my actions.
"Most of all, I apologise to my wife, Barb and to my family who I've let down more than anyone else," he added.
Mr Tory said he would work with city employees and deputy mayor Jennifer McKelvie to ensure an orderly transition to a new administration.