Entertainment Desk : dhakamirror.com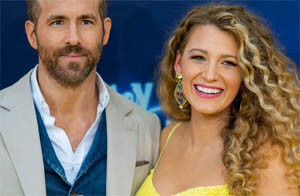 Congratulation are in order for Hollywood star Blake Lively, who is expecting her baby number 4 with her actor-husband, Ryan Reynolds. The speculation began when a tabloid published a photo of the actress wearing a suit and pants. And it's obvious that her abdominal area seems enlarged.
While the actress never addressed the matter, a recent appearance confirmed the news! Blake was photographed on the 15th of September 2022 at the Forbes 10th Annual Power Women's Summit. The actress opted for a beige sequinned number with nude platforms. She radiated a glow and looked stunning on the red carpet!
Last year, the Gossip Girl star shared what it's like having three young daughters. "It's like going from two to 3,000. I mean, we have so many children. It's pretty crazy. We're outnumbered, and it's a lot. People say going from two to three, it's the same, you know, it's kind of easy — those people do not have three kids. It is really crazy. But I'm here," Blake Lively said via E! News.
In a more recent interview, Lively explained why it's very important for her three daughters to see her as a working mom. "I want to be as present of a mother as humanly possible and I want them to feel my presence, but I also think the best way to be the best mother is to show them that you can have a life and have a passion and have an identity outside of just being a mother."
She added, "I mean, being a mother is completely all-encompassing, and that doesn't mean there are a lot of mothers who don't have the opportunity to work as well, but just having your [own] identity is, I think, very important," she said via People.