Entertainment Desk : dhakamirror.com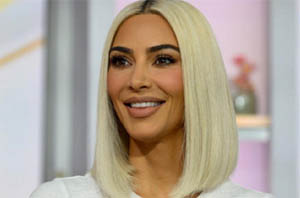 A post on Kim Kardashian's Instagram promoting cryptocurrency assets has gotten her into trouble.
The celebrity was charged by the US Securities and Exchange Commission on Monday for failing to disclose the payment received as part of the promotional agreement.
The reality TV star and businesswoman has agreed to assist the SEC's ongoing investigation, according to a statement released on Monday, and he will also pay $1.26 million in fines, disgorgement, and interest.
Kim Kardashian was fined for promoting cryptocurrency
According to the SEC, Kardashian did not disclose that she received $250,000 from EthereumMax to post on her Instagram about EMAX tokens, a cryptocurrency asset security.
Her post also included a link to the EthereumMax website, where prospective investors could find instructions on how to buy EMAX tokens.
Gurbir Grewal, director of the SEC's division of enforcement, stated in a statement that "the federal securities laws are clear that any celebrity or other individual who promotes a crypto asset security must disclose the nature, source, and amount of compensation they received in exchange for the promotion."
Kardashian has agreed to not promote any crypto asset securities for three years.
"Kardashian is pleased to have resolved this matter with the SEC. Kardashian fully cooperated with the SEC from the very beginning and she remains willing to do whatever she can to assist the SEC in this matter. She wanted to get this
matter behind her to avoid a protracted dispute. The agreement she reached with the SEC allows her to do that so that she can move forward with her many different business pursuits," a lawyer for Kardashian said in an email.
Gary Gensler, who chairs the SEC, called the case a "reminder" celebrity endorsement did not necessarily make a product worth investing in.
He added that the case of Ms. Kardashian "also serves as a warning to celebrities and others that the law requires them to declare to the public when and how much they are paid to encourage investment in securities."
He stated in a YouTube video later, about investing in cryptocurrencies "Celebrity endorsements… don't imply that an investment product is good for you or even, honestly, that it's credible".
"Even if a celebrity's recommendation is sincere, each investment carries a unique set of risks and opportunities.