World River Day today
Rashad Ahamad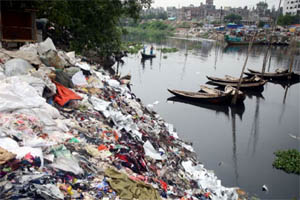 Inland waterways, once the prime mode of transportation in Bangladesh, have declined fast as many rivers, canals, and other water bodies have disappeared in riverine Bangladesh over the past decades.
Due to geographical location, inland waterways were the main mode of transportation in Bangladesh, a country part of the largest delta in the world, but that mode has changed due to erroneous policies in communication development, experts said.
The authorities had destroyed the popular, cheap and safer waterways and instead had expanded only road transportation, facilitating the deaths of many rivers, they said.
In this context, World River Day will be observed across the country today. The day is observed across the world on the fourth Sunday of September.
The River and Delta Research Centre chairman, Mohammad Azaz, blamed river grabbing and pollution, water scarcity from upstream and climate change for decreasing water transportation in Bangladesh.
Khalid Mahmud Chowdhury, state minister for shipping, claimed that governments after 1975 followed a wrong transport development policy, allowing waterways to shrink.
He claimed that successive governments' 'business-oriented transportation plan' prioritised the road while ignoring rail and waterways.'
He stated that Bangladesh used to have 24,000 kilometres of waterways, but this number has now drastically decreased.
'Awami League government is now working to make 10,000 km of waterways as per our election pledge,' he said.
He also said that they had dredged 53 rivers already and that the dredging work in some rivers was in progress as the government had bought 50 heavy dredgers and initiated the process of procuring 35 more. Several sea ports and 35 river ports were upgraded.
The government has adopted the Delta Plan 2100 with a special focus on rivers.
Bangladesh Inland Water Transport Authority statistics showed that in 1975, there were 223 river routes and about 8,489 kilometres of navigable waterways in the rainy season in Bangladesh and 5,287 kilometres in the dry season.
At present, about 5,900 kilometres of waterways are navigable in the rainy season and only about 3,800 kilometres of waterways are navigable in the dry season on 188 routes.
Amid the reality, Bangladesh is set to observe World River Day with the theme 'Waterways in Our Community' emphasising both protecting rivers and restoring waterways.
RDRC chairman Azaz said that over 500 rivers in the country disappeared in the past 50 years, while the number of canals that disappeared was much higher, with no study available.
The National River Conservation Commission reported 770 rivers across the country. According to RDRC, the number was 1,274 during the war of independence in 1971.
Jahangirnagar University urban planning professor Adil Mohammad Khan blamed professionals for accepting the wrong development policies of the government and development partners.
'Just see, in Dhaka, box-culverts were made by blocking canals,' he said, citing an example.
He also said that many unnecessary roads were constructed in the haor areas, where people once mostly used boats for transportation.
'Embankment to control flooding also restricted vessel movement,' he said.
He said that as rivers were not in use, they lost navigability, were grabbed, polluted and eventually died.
Green activists said that the Local Government Engineering Department and the Roads and Highways Department have constructed most of their bridges and culverts, narrowing rivers and decreasing navigability.
Flat bridges and culverts restrict boat movement in local waterways.
Abdus Sattar, once a boatman who used to carry goods from Ghatail in Tangail to different destinations including Mymensingh, Dhaka, and Narayanganj, said that after the construction of a low-height flat bailey bridge on the Jheenuk River, he had to sell his boat as he couldn't move under the bridge.
The Jheenuk River, a branch of the Jamuna River, flowing over Bhuyapur and Ghatail, is now all but dead. There is no water flow in the river in the dry season. Domestic and industrial waste polluted the river, where hardly any fish is now available, said Sattar.
'I made my living as a boatman until the bridge came here in 1995. I tried to remain in the profession even after few more years. Later, I switched to farming,' said Sattar.
The LGED claims to have built 36,311 bridges to complete its 330,831 kilometres road network across the country, while the RHD claims to have built 4,404 bridges and 14,814 culverts in its 22,418 km length of 992 roads.
Green activist M Hamid Ranju said that he used to go to Mirpur in Dhaka from Genda of Savar by boat even in the 90s, carrying goods with other traders.
He said that his mode of transportation has changed since Bill Bagheel choked and dried out being left uncared for and the expansion of the Dhaka-Aricha Highway.
He said that at one time, every family in his area owned at least one boat. Now motorcycles or cars have replaced boats in many families.
The National River Conservation Commission chairman, Manjur A Chowdhury, said that alongside illegal grabbing and earth-filling, some transboundary issues were also behind the death and disappearance of rivers and waterways in Bangladesh.
He explained that many rivers were silted for lack of water as the water flow was restricted upstream.
The commission has identified 60,000 river grabbers so far across the country.
Bangladesh Environmental Lawyers Association chief executive Syeda Rizwana Hasan said that in the name of road network development, the rivers and canals were killed in a planned way.
Professor Emeritus and river expert Ainun Nishat said that any action that harms the river and its natural environment was illegal and also a violation of the constitution.
'But it is happening continuously,' he said. 'The officials of LGED and RHD responsible for the action should be brought to book,' he added.
The Bangladesh Poribesh Andolon general secretary, Sharif Jamil, said that if the waterways could be protected, the rivers and canals would remain protected.
'A river is part of an ecosystem. It is a lifeline, a livelihood and many more. With the death of many rivers, everything collapsed,' he said.