Entertainment Desk : dhakamirror.com
Duchess of Sussex Meghan Markle and Prince Harry's debut Netflix docuseries Harry & Meghan has been nominated for a Hollywood Critics Association TV Award.
The news broke on Twitter, with their very personal documentary appearing in the list of nominees for Best Streaming Nonfiction Series in the Hollywood Critics Awards.
The post read: "The 2023 HCA TV Awards nominees for Best Streaming Nonfiction Series are: Harry & Meghan, Prehistoric Planet 2, Rainn Wilson and the Geography of Bliss, Rennervations, The 1619 Project ,The Reluctant Traveler with Eugene Levy."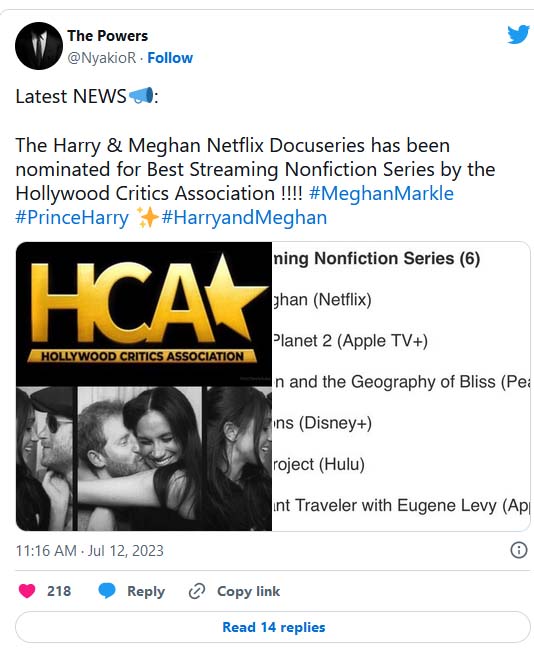 Fans rushed to the comments section to add their praise for the show, with one writing: "The Harry & Meghan series should win this category. Very well deserved!! Congratulations to the team for a job well done" and another adding: "Congrats to all nominees. I'll be rooting for Harry & Meghan!"
The documentary was a massive hit for Netflix, with 2.4 million people tuning in for the release day. Interestingly, it received higher figures than The Crown as they only raked in 1.1 million viewers for the premiere day.