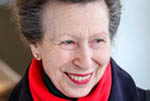 The Durrell Wildlife Conservation Trust will celebrate Princess Anne for her 50 years of contributions and effort.
The only daughter and second child of Queen Elizabeth II, Anne, 72, will be recognized for her "commitment to charity" over many years to save wildlife species.
The philanthropic trust is creating a turtle sculpture for its Art Trail event, Tortoise Takeover, which will debut in the summer of 2023, as a tribute to the royal princess.
In order to represent Princess Anne's dedication to charity, a selection of regional artists has been chosen to submit design concepts for the sculpture.
The final design will be decided upon in 2023, and 50 turtles will then join it on the Art Path in the months of July and August.
Dr. Leslie Dickiem, CEO of Durrell, termed Princess Anne's commitment to philanthropy "inspiring."
She said: "Their Royal Highness's knowledge, passion and belief in our mission to save the species from extinction is an inspiration to the Durrell team and our loyal supporters.
"We think the tortoise symbolizes the longevity of the Trust's support of HRH, and while turtles represent good luck, wisdom, and the creation of the earth in many cultures, there is even more resonance for HRH's preservation."
Since being approached by the founder of the charity in 1972 when the princess was just 22 years old, Princess Anne has been involved with Durrell as a royal patron.