Actress has several tattoos on her body
Entertainment Desk : dhakamirror.com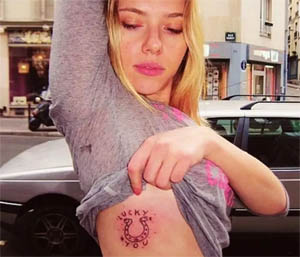 Her stunning good looks have also made her a prominent casting target in the entertainment industry. The New Yorker keeps her good fortune in mind every day with a tattoo.
Even though Scarlett Johansson is known for keeping her personal and professional lives under covers, her fans are well aware of the many tattoos she proudly displays.
The actress, who was born in Manhattan, reportedly has eight tattoos. She has been guarded about revealing some of them, but they have slowly been revealed on the red carpet over the years.
One of the actress's most significant tattoos, found on her ribs, was revealed in an Instagram shot.
Only "Lucky you" and a horseshoe are there to convey the message.
This small thing exemplifies Scarlett Johansson's gratitude for the life she has been given. A constant reminder of her good fortune.
She also has tattoos on her ankle, back (a bouquet with a rose), wrist (a bracelet), and forearm (a sunset), in addition to the one on her ribs.