Entertainment Desk : dhakamirror.com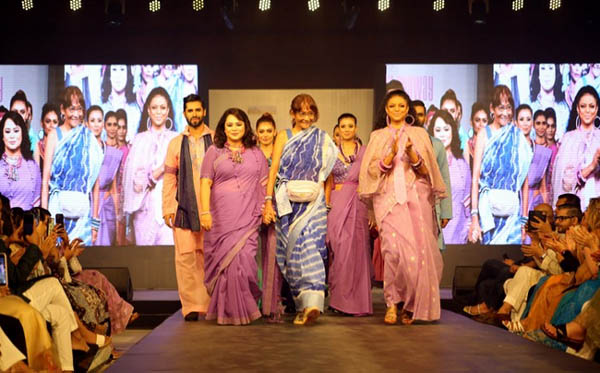 Internationally acclaimed fashion designer Bibi Russell's fashion show to raise fund for the medical mission enthralled the audience at Aloki on the capital's Tejgaon-Gulshan Link Road on Friday evening.
Dhaka audience witnessed the first ever 'Blue Wrap Project Runway-Bangladesh', jointly organised by Rotary Club of Dhaka Pathfinders and the Partners for World Health, a US-based organisation.
In the fashion show, Bibi Russell presented a collection of sustainable designs, where supermodel Noyonika Chatterjee walked in the ramp as the showstopper.
The show began with the first queue wearing dresses made of discarded surgical blue polypropylene with an aim to recycle the surgical wastes.
The following four queues showcased Bibi Russell's 'Threads of Life' collections featuring 100 per cent natural, sustainable and hand woven cotton and Jamdani dresses.
The show also paid tribute to the craftspeople who have been the unsung heroes behind the scene.
The queues also synchronised with Bangla songs to give the viewers the glimpse of our local tradition and culture.
In her welcome speech, the president of Rotary Club of Dhaka Pathfinders Tabassum Hossain Tina said that this sustainable fashion initiative was about transforming waste into art, symbolising Rotary's collective commitment to a healthier world.