Entertainment Desk : dhakamirror.com
Rikkie Valerie Kollé has been named Miss Netherlands 2023, on July 8, becoming the first transgender woman to take the title, according to multiple outlets.
The 22-year-old was crowned with a tiara by her predecessor, Ona Moody and reigning Miss Universe R'Bonney Gabriel from the US, at the AFAS Theater in Leusden.
Kollé becomes the second transgender woman to compete in Miss Universe's global competition in El Salvador later this year. Angela Ponce became the pageant's first trans contestant when she represented Spain in 2018.
Notably, the 71-year-old competition first started permitting transgender contestants to participate in 2012.
"I DID IT !!!!!" the model said in a post on Instagram. "Yes I'm trans and I want to share my story but I'm also Rikkie and that's what matters to me," Kollé wrote. "And wherever you are in the world, I want to be there for you and be the example that I missed as a little me."
After thanking the judges, her fellow finalists, family, and friends, Kollé told her followers, "And wherever you are in the world, I want to be there for you and be the example that I myself missed as a little me. On to many more adventures, let's get @missuniverse ready. So excited!"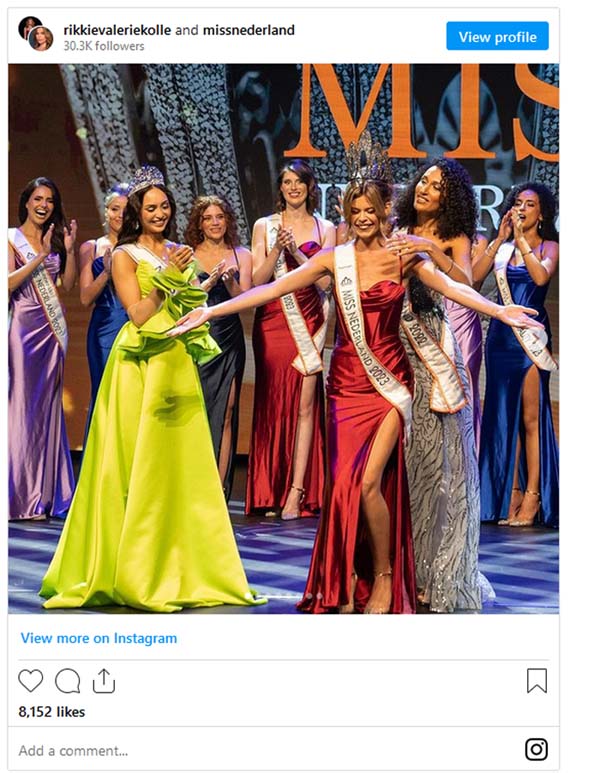 She wants to be a voice and role model for young women and queer people, according to her finalist page. As someone who didn't feel supported after coming out as transgender at a young age, she wishes to leave those stories of suffering in the past.
"Now, years later, I'm stronger today than ever before, which is something I want to pass on to whoever needs it. Because as long as you always remain who you are, there is no one who can be above you. I would like to dedicate myself to all the little Rikkies who have to deal with rejection from their family and their transition to the person they desire to be. And help make their self-image and acceptance stronger, untouchable," she said.