City Desk : dhakamirror.com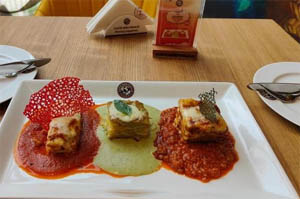 The Café Sao Paulo recently organised the 'Tris Lasagna Festival' with its Italian Master Chef Valter Belli.
The campaign took place at Café Sao Paulo's Dhanmondi and Banani outlets from 29 to 30 July, reads a press release.
The Italian favourite of lasagna that we all know and love originated in Italy in the city of Naples during the Middle Ages by the 14th century.
The festival was a tribute to the rich culinary heritage of Italy and beyond, paying homage to the art of making this classic layered dish.
Whether one prefers Bolognese style or is curious about inventive vegetarian or chicken variations, the festival had something of every palate.
The motive behind Café Sao Paulo celebrating this amazing Tris Lasagna Festival was to experience the cultural exchange of food taste to make an impression on its customer. – Press release