World Desk : dhakamirror.com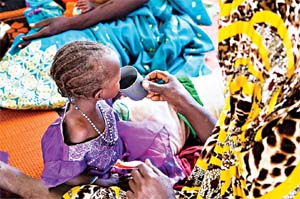 The conflict in Sudan has displaced more than a million children, including 270,000 in the Darfur region, the United Nations Children's Fund said on Thursday, warning that many more are at grave risk.
The grim milestone was reported as the war that broke out between the paramilitary Rapid Support Forces and army entered its third month.
As well as the more than one million displaced, at least 330 children have been killed and more than 1,900 others wounded, Unicef said in a statement on Thursday. "Many more are at grave risk".
Unicef's representative in Sudan Mandeep O'Brien warned of further risk for the displaced children.
"The future of Sudan is at stake, and we cannot accept the continued loss and suffering of its children," he said.
"Children are trapped in an unrelenting nightmare, bearing the heaviest burden of a violent crisis they had no hand in creating – caught in the crossfire, injured, abused, displaced and subjected to disease and malnutrition."
He reiterated calls for better humanitarian access in Sudan.
Unicef said an estimated 13 million children were in "dire need" of humanitarian assistance.
The UN agency said it was ready to assist them but called for "safe, unrestricted access and guaranteed security to all areas where children are in desperate need".
It said the situation in the western region of Darfur – where 270,000 children are said to have been displaced by the fighting – was especially concerning.
"The situation in West and Central Darfur, in particular, is characterised by active fighting, severe insecurity and looting of humanitarian supplies and facilities," said Unicef.
"The lack of safe water has left hundreds of thousands of children at risk of dehydration, diarrhoea, and malnutrition," it added.
– Input from Agencies was used in this article.