Cultural Desk : dhakamirror.com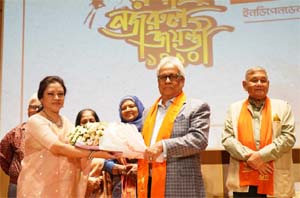 A musical evening was organised at the Independent University, Bangladesh (IUB) campus in Dhaka's Bashundhara Residential Area on Thursday (27 July) to mark the birth anniversaries of Rabindranath Tagore and Kazi Nazrul Islam.
Renowned singers Adity Mohsin and Bijon Chandra Mistry performed Rabindra Sangeet and Nazrul Geeti respectively. IUB's Kazi Nazrul Islam and Abbasuddin Ahmed Research Center (KNIAARC) and the School of Liberal Arts and Social Sciences jointly organised the event, reads a press release.
The event started with a group performance by the IUB Music Club, who sang the national anthem of Bangladesh 'Amar Sonar Bangla' by Rabindranath Tagore, the war song 'Chal Chal Chal' by Kazi Nazrul Islam and the IUB anthem 'Alma Mater'.
Ashikur Rahman, a student of Global Studies and Governance at IUB, played one of Kazi Nazrul Islam's favourite raga 'Nilambari' in Sarode. Dr Kudrate Khoda, associate professor of Social Science and Humanities at IUB, accompanied him in tabla.
IUB Board of Trustees (BoT) Chairman Abdul Hai Sarker said, "I thank the organisers for organising this event. Through this event, students of IUB got the valuable opportunity to listen to and be inspired by two of the country's leading singers."
IUB BoT member Towhid Samad said, "Kazi Nazrul Islam was a multifaceted genius. He pioneered news styles in Bangla literary writing by introducing folk terms in Bangla literature and attempted to free Bangla Literature, particularly poetry, from its rather stultifying mediaeval form."
Vice Chancellor Professor Tanveer Hasan said, "It is difficult for students to develop human qualities if they do not not develop an affinity with Liberal Arts and Humanities and a liking for painting, literature, music, and films. So, we always try to maintain a cultural atmosphere in the university premises."
Pro-Vice Chancellor Professor Niaz Ahmed Khan gave a vote of thanks. Professor of English and Modern Languages and Director of KNIAARC Dr Ahmed Ahsanuzzaman moderated the programme. Press release